In Manuel Benavides, Mexico (San Carlos, Mexico) there is an oasis less than an hour's drive from Presidio, Tx. called Casa la Gloria. I recommend it. Highly.
Reservations are required. Contact Gloria Page: 432-294-4137 (US cell phone) or book through Far Flung Adventures: 800-839-7238. Tell them "Pat sent you." Maybe she'll throw a free stay my way. I just got home and I'm ready to go back!
To get there, stay on "Main Street" (avenue Libre Commercia) in Ojinaga- that's Hwy 67, the highway to Camargo.
About 20 miles outside OJ, take a left on Hwy 200 – it's clearly marked.  You just have to remember that San Carlos' "real" name is Manuel Benavides. Thirty miles later, you're in San Carlos.  Go over the bridge, take a right just past the first liquor store, go up the dirt road, look for the sign.
If you're curious about Ojinaga, safety in Mexico, etc., you might want to read my previous blog post HERE.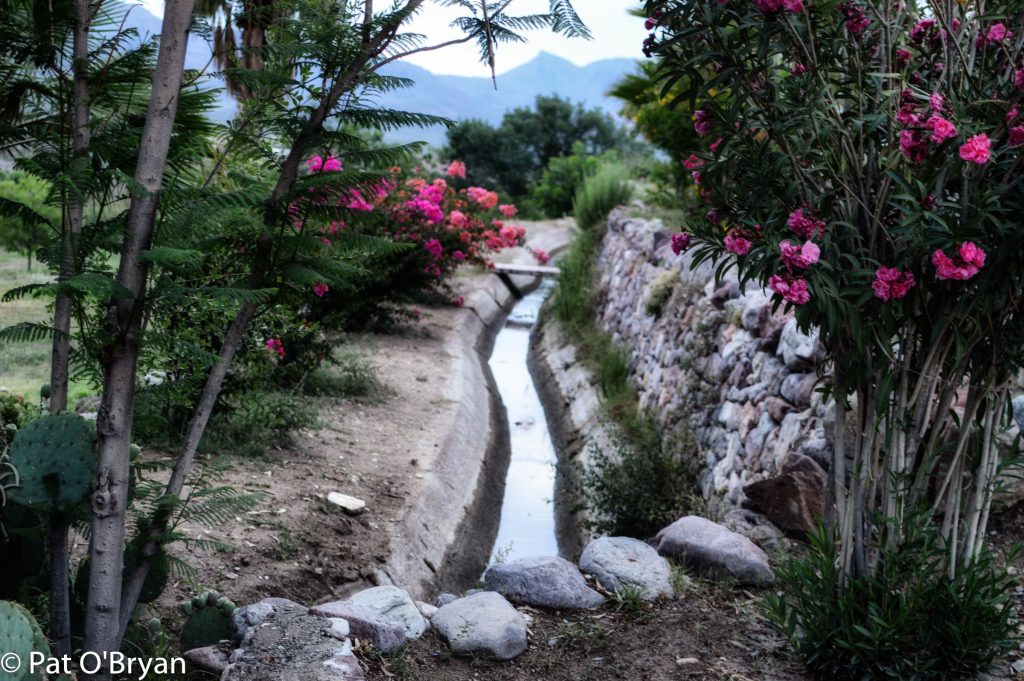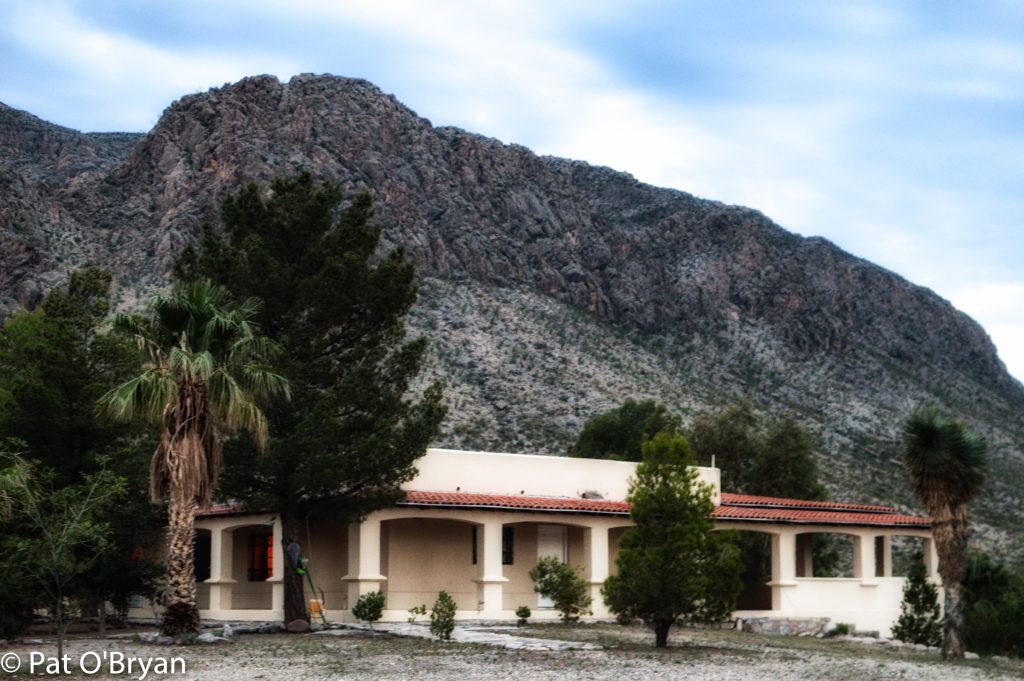 Bed and Breakfast in San Carlos (Manuel Benavides)
Above is the "big house."  It's huge, with three bedrooms, two large bathrooms including one that has a tub big enough for two large adults to soak in, great kitchen, a porch that could seat 50 people easily… and rents for just $300/night. The Casitas are $100/night.  If you want Gloria to feed you, that costs extra and is worth every cent.
In my opinion, the big house is the deal. Three couples with kids would have plenty of room to spread out and relax. If you're on a budget, shop for groceries in Ojinaga, use the big kitchen, and your vacation becomes extremely affordable.
Page through the pics of Gloria's property, and then I'll tell you about San Carlos.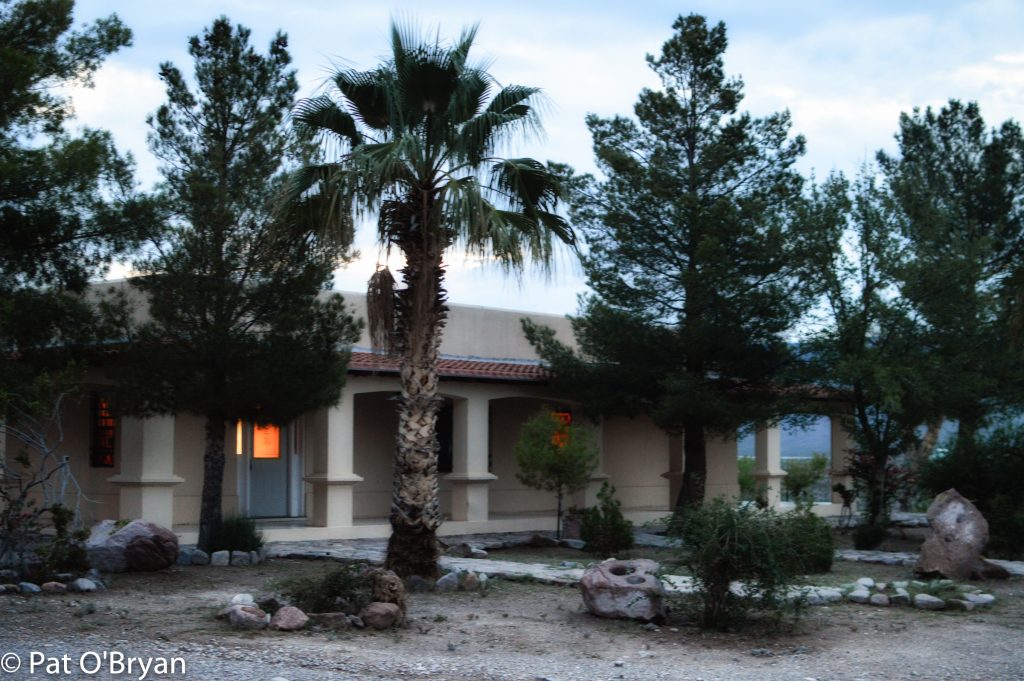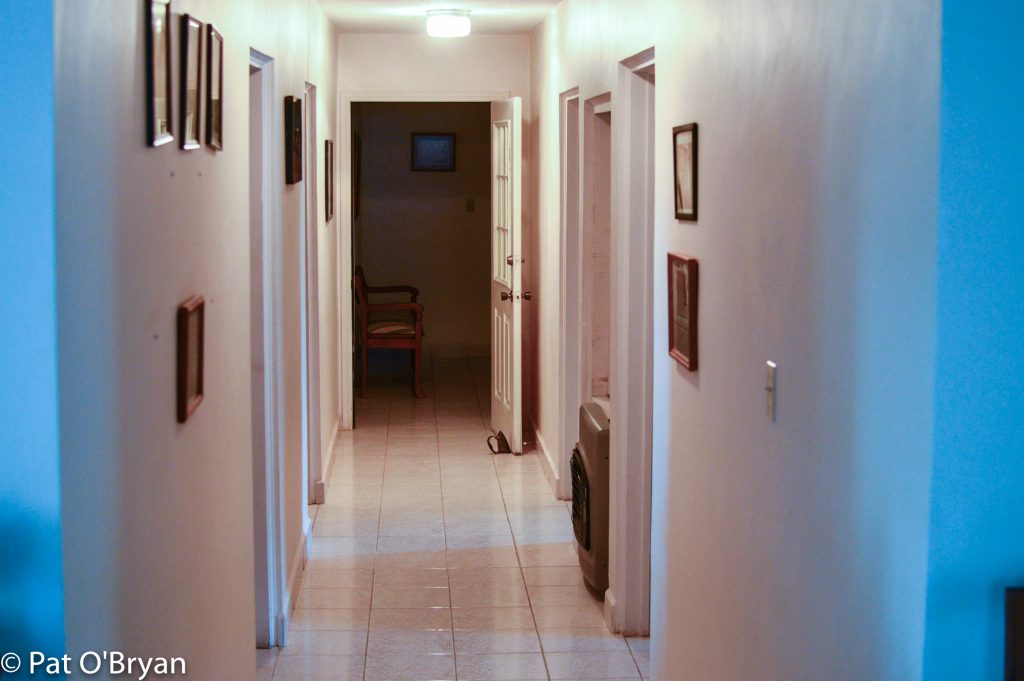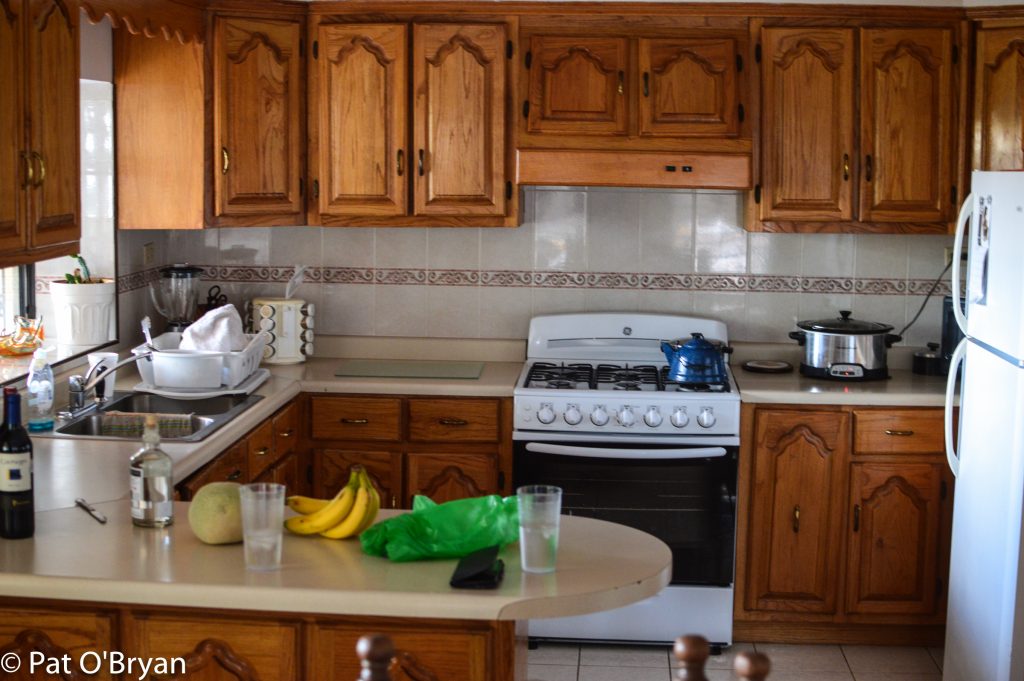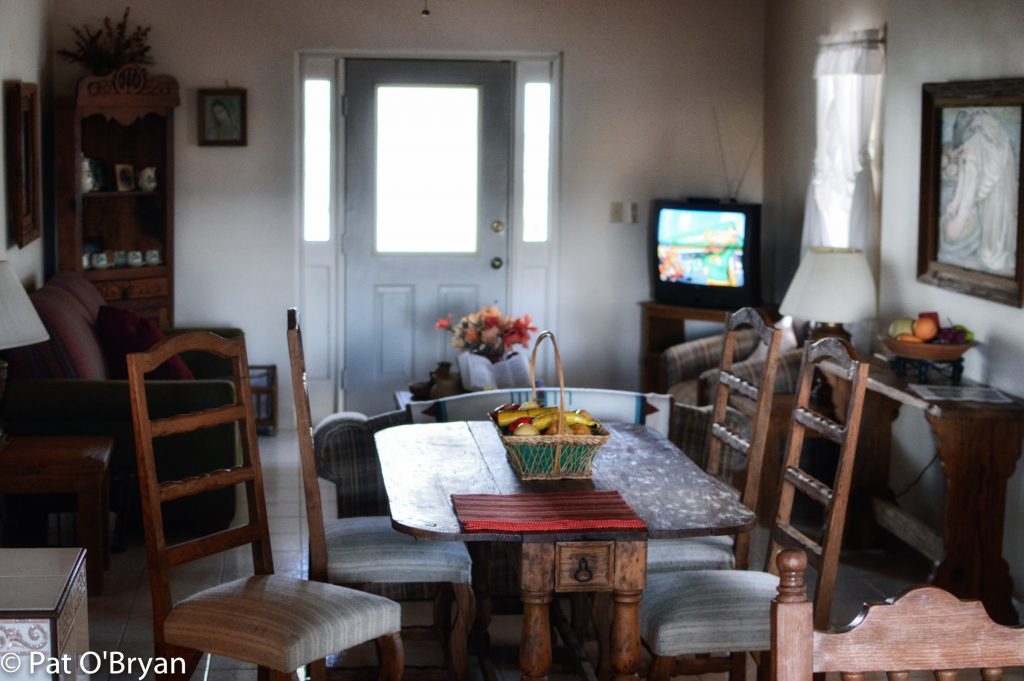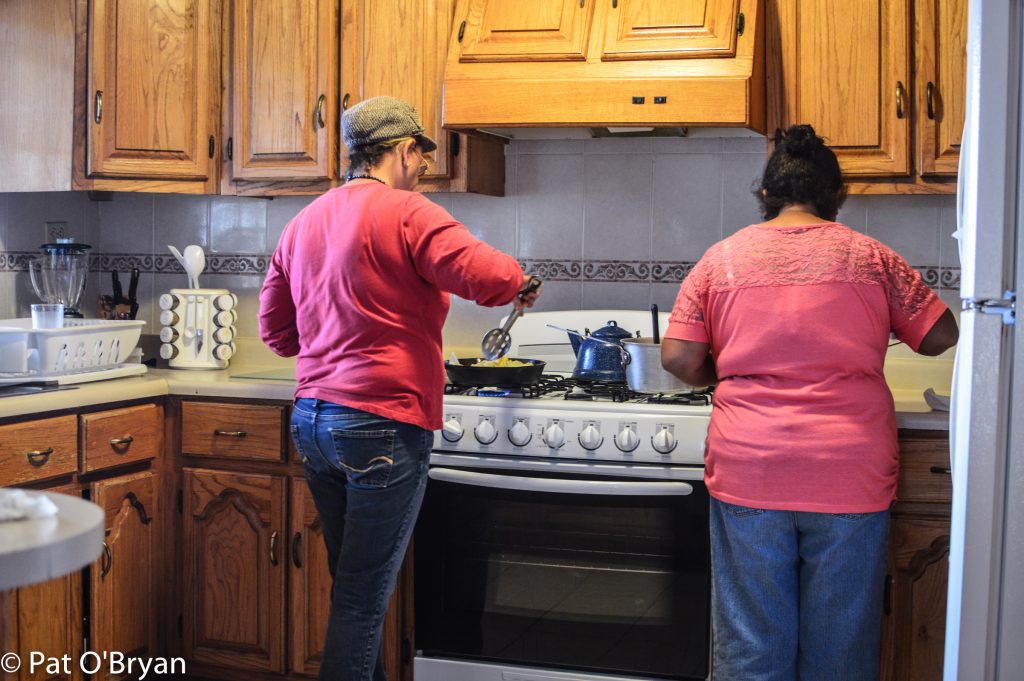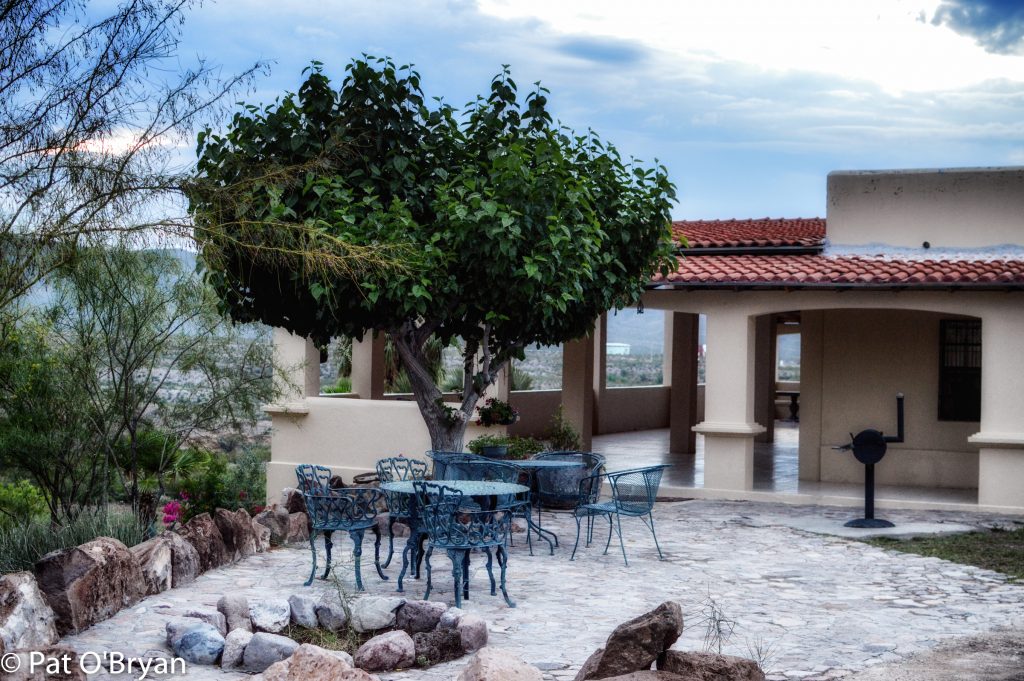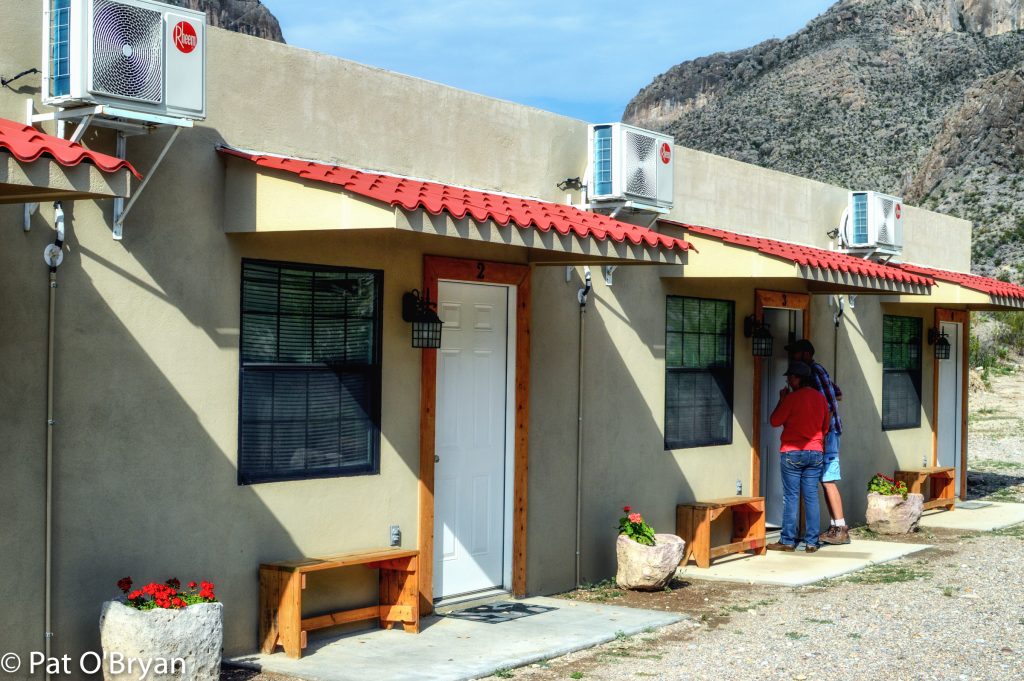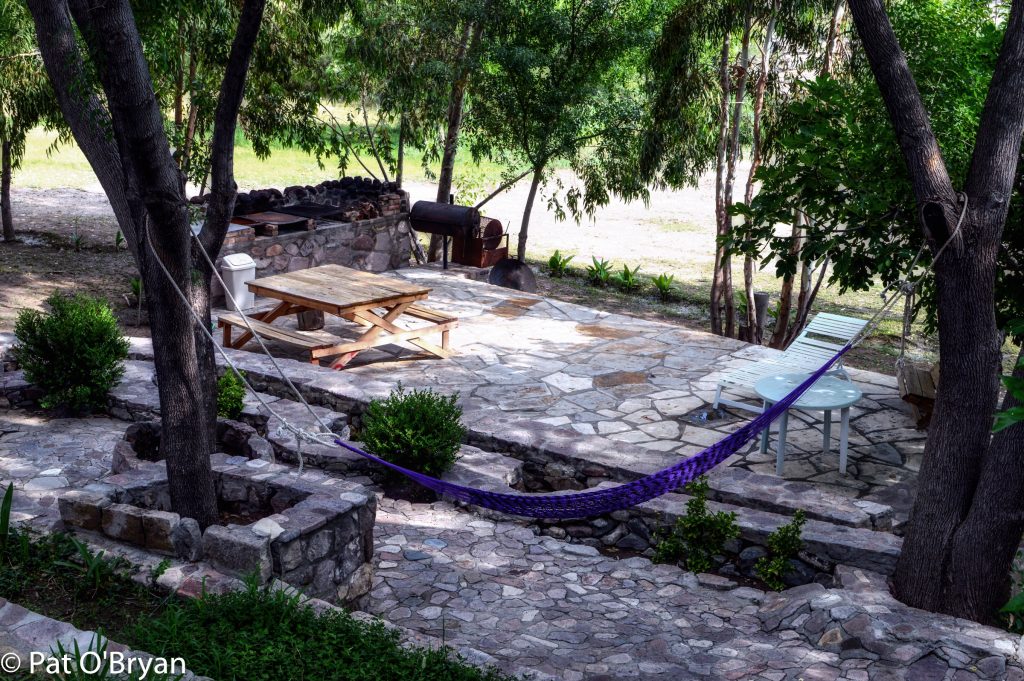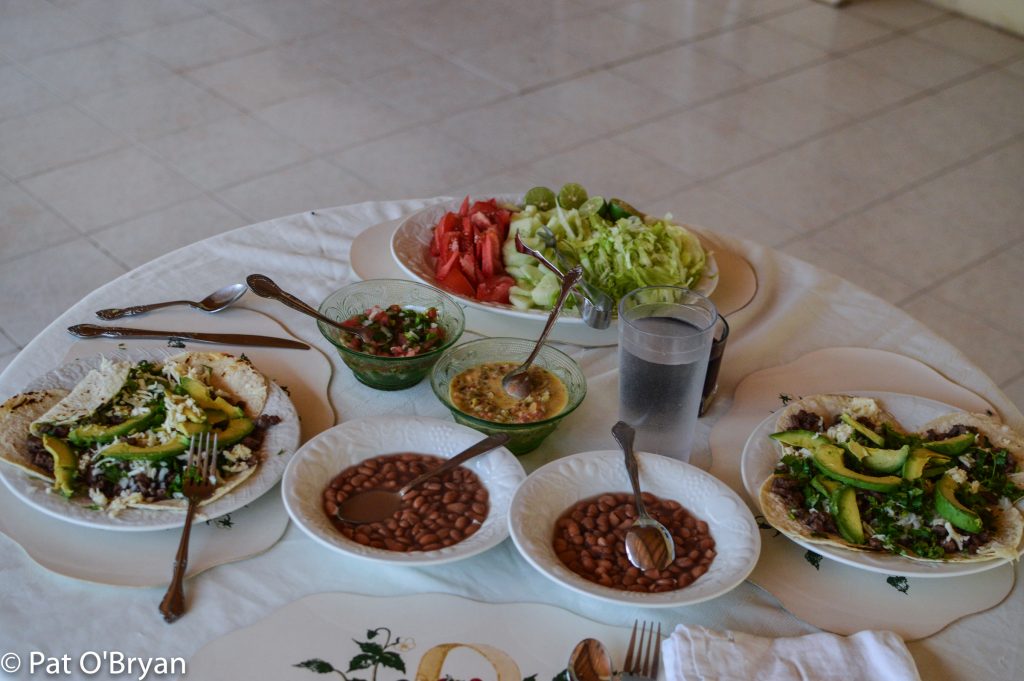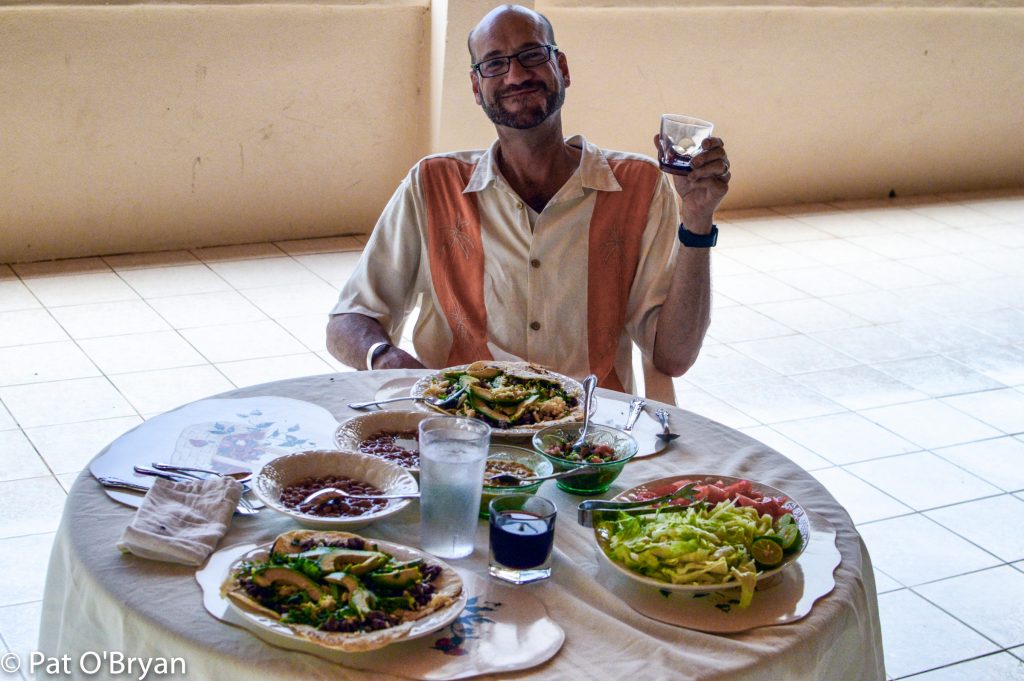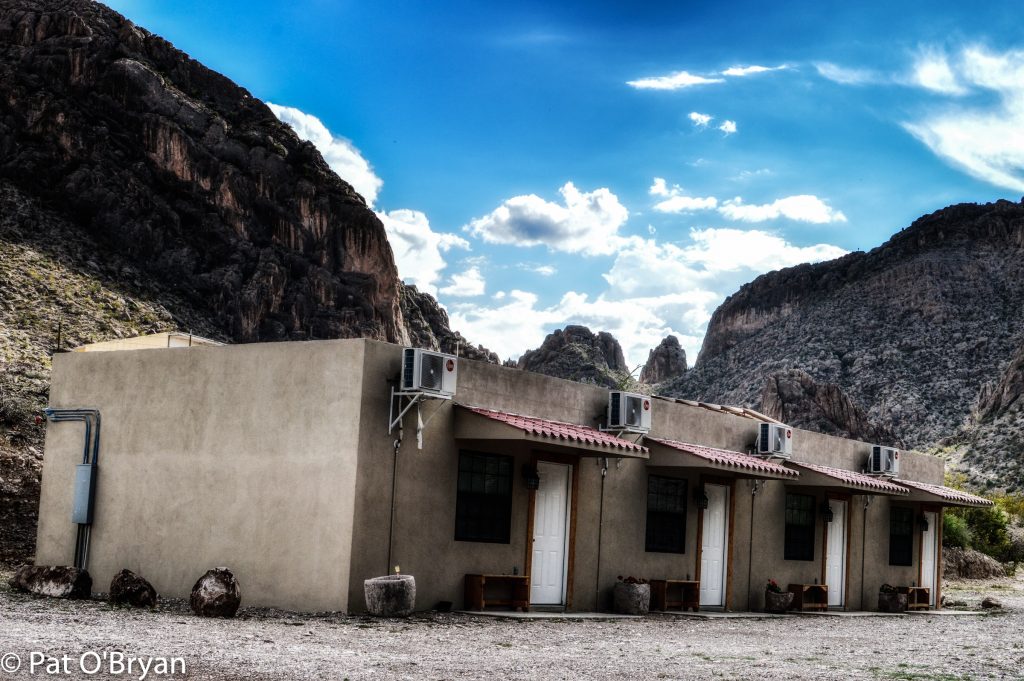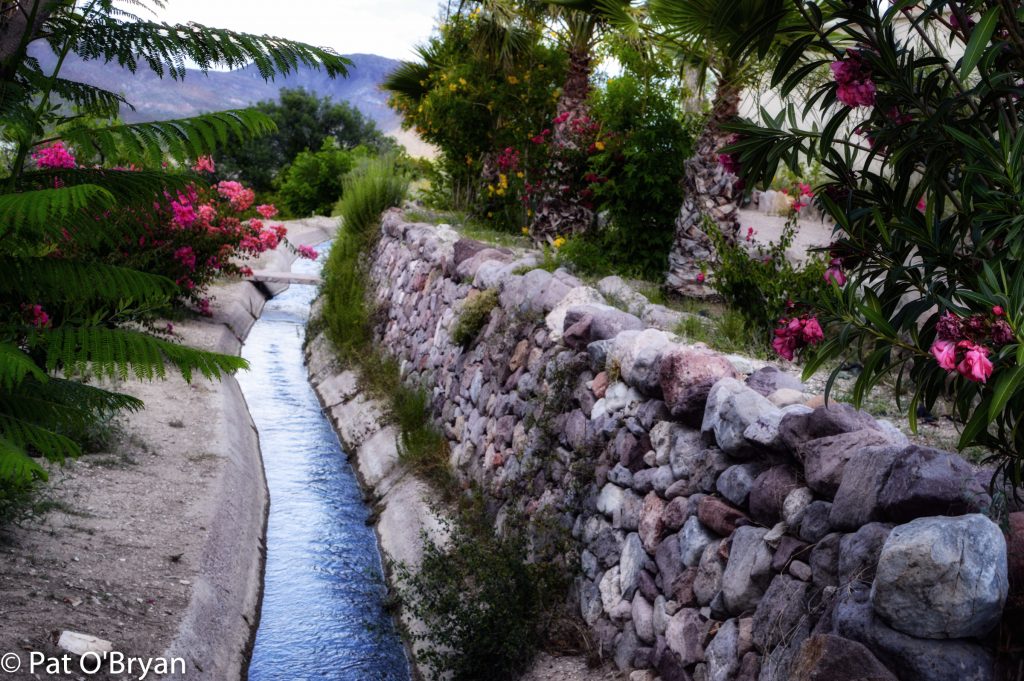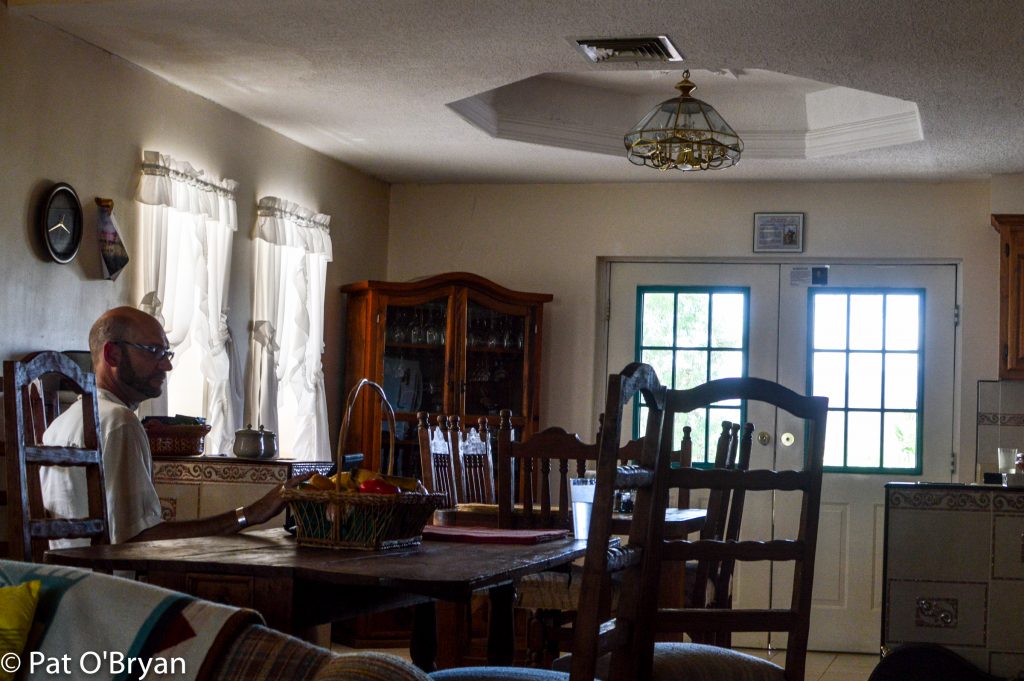 Exploring San Carlos- Manuel Bienevides
The irony is that San Carlos is only 30 miles from Lajitas. Since the border was closed in a fit of pathetic petulance in 2003, you now have to drive to Presidio, and then turn around and retrace your steps on the other side of the border.
The good news is that the road is a highway. The speed limit averages about 50-55 miles an hour and apparently I'm the only person in Mexico who drives the speed limit. There's not much traffic, the views are interesting, and there was no drama at all on our trip.
Trevor and I left Lajitas, drove River Road to Presidio, and crossed over to Ojinaga. We enjoyed a fabulous lunch at Los Comales restaurant on the square and then stopped by the big new grocery store for provisions.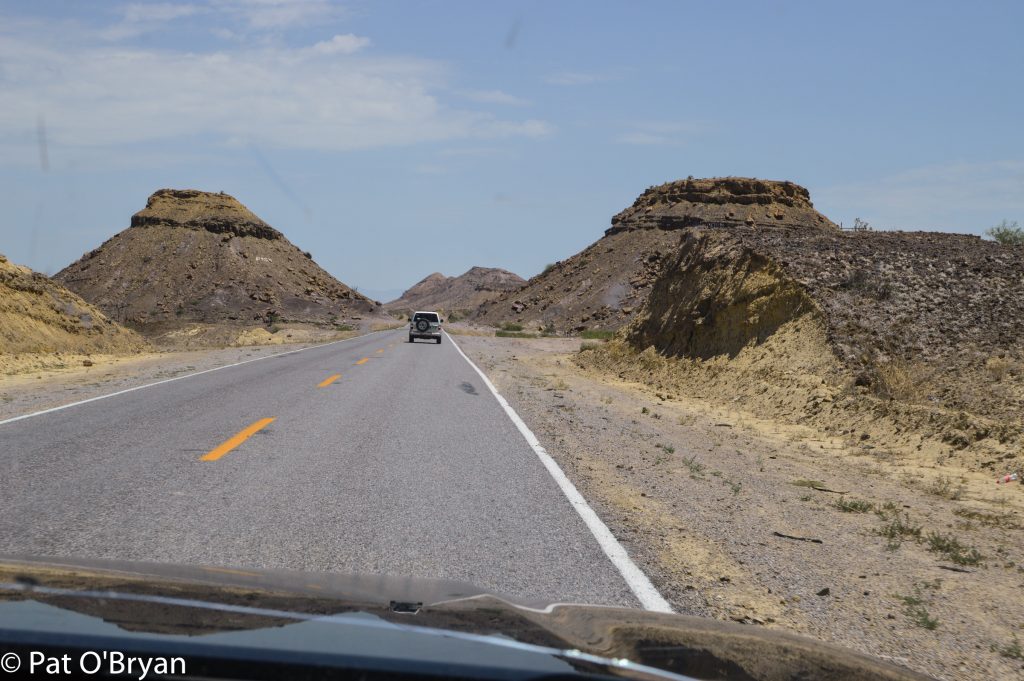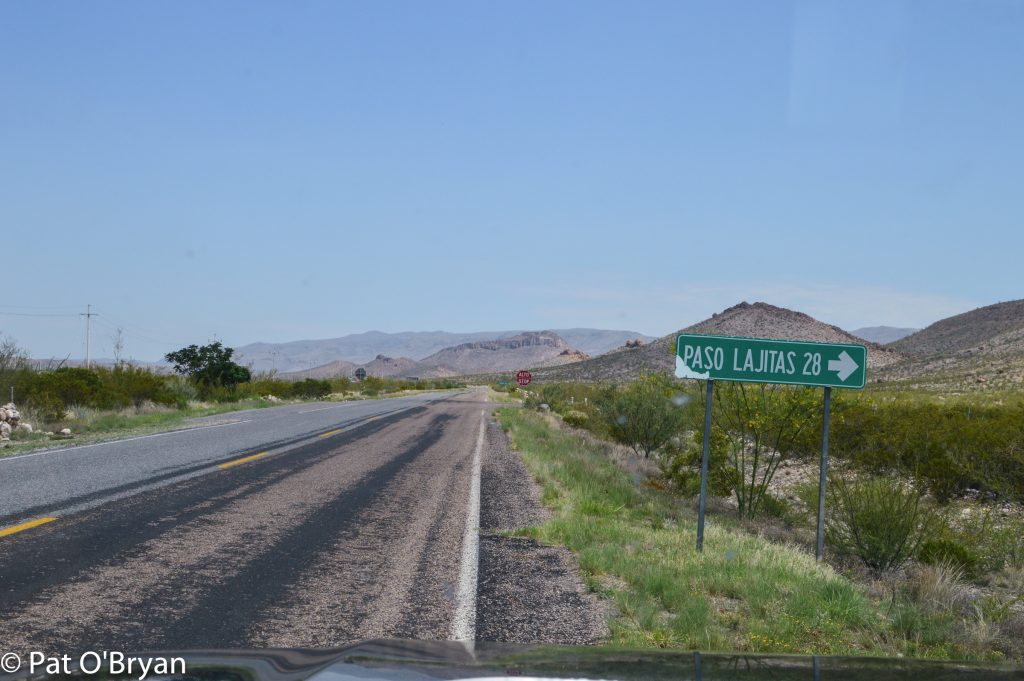 Once we arrived at Gloria's, we got settled in quickly because Gloria wanted to take us to a Quincenerra in town.
Gloria drove, but I would have been comfortable driving.
San Carlos is a picturesque little town with an amazing amount of water, a working aquaduct, and a LOT of new homes that are under construction. If this town was North of the Rio Grande, it would be as popular as Sedona.
We walked to the quinceanera just as the band finished playing. Surprisingly, we met a lot of people there that we knew from Terlingua.
I went outside to take some pics. When I returned, I was joining Trevor and some friends at a table when a young woman handed me a plate of food:  pork stew, chicken mole', beans, rice, and pasta salad.
I asked Trevor, "why did that woman hand me a plate of food?"
He answered, "because that's what they do."
I like Mexico a lot.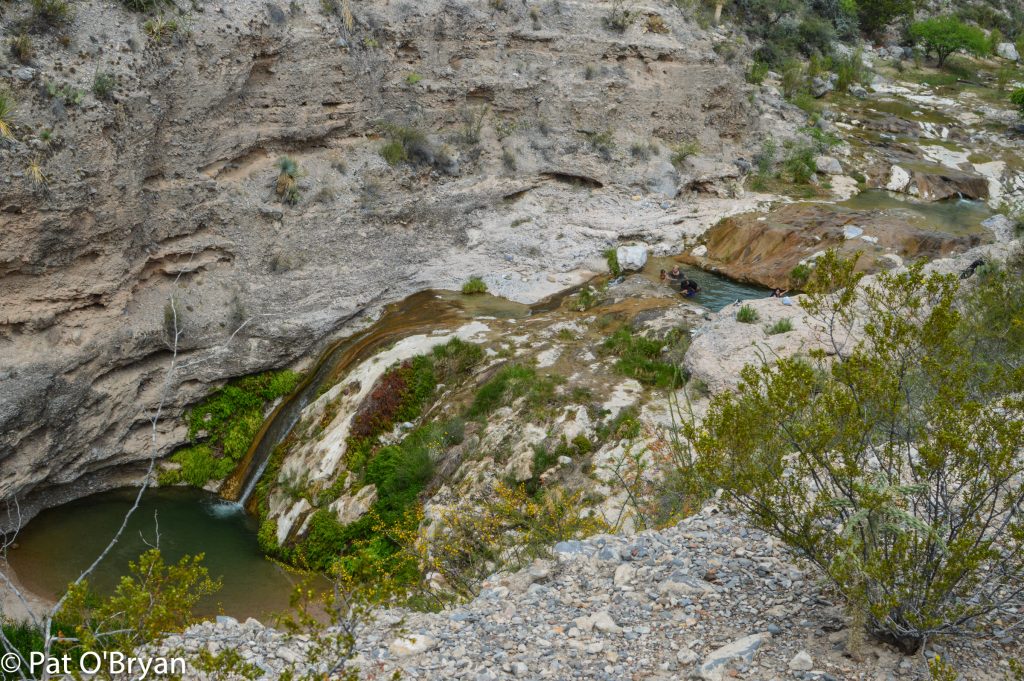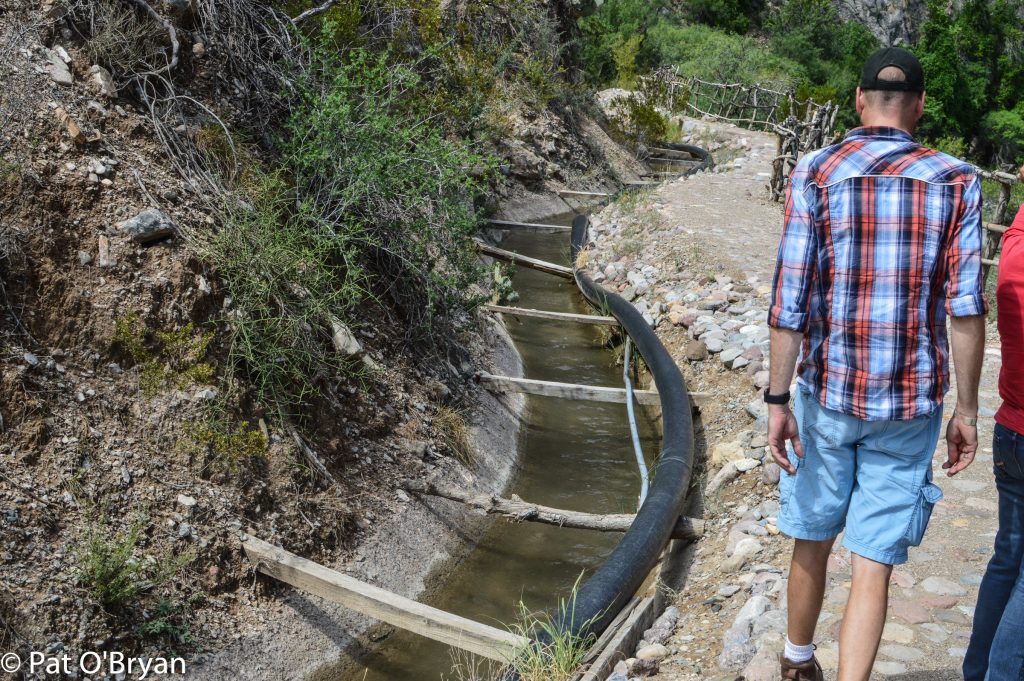 After the party, Gloria gave us a short tour and then took us back to Casa la Gloria where she and Sylvia prepared an amazing meal which we ate on the patio.
We were invited to the post-quinceanera party, but decided to stay in and play guitars and talk. Probably a smart move. The party went on all night and there were still some serious partiers listening to music and drinking beer at noon the next day.
While we were playing and singing, a very impressive rain storm blew through and the power went out.  Just like home.
Shortly thereafter, the power came back on.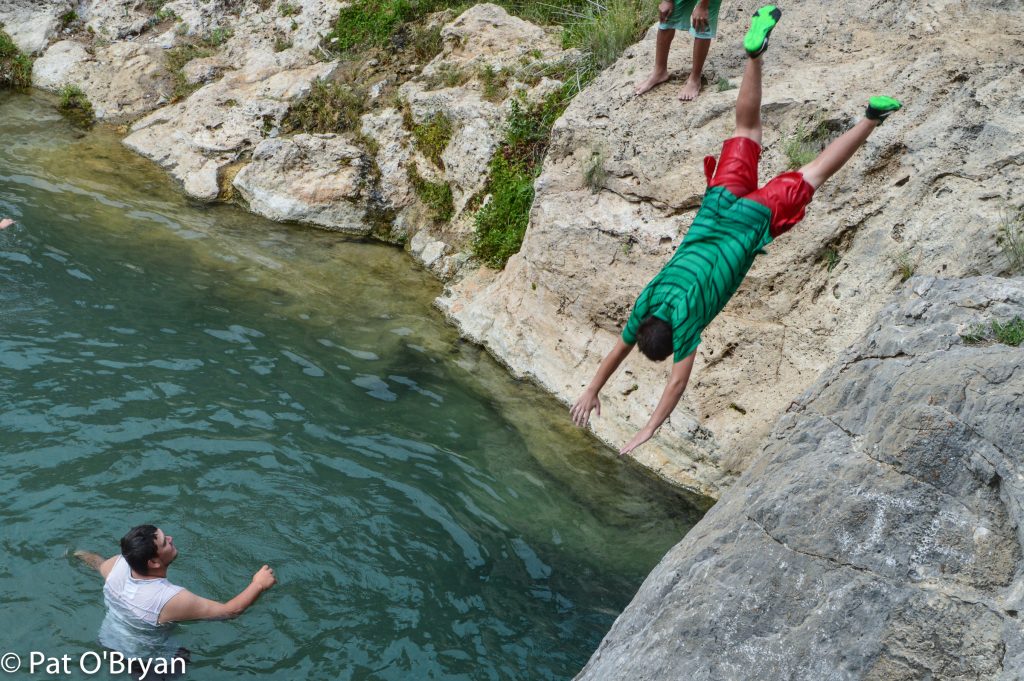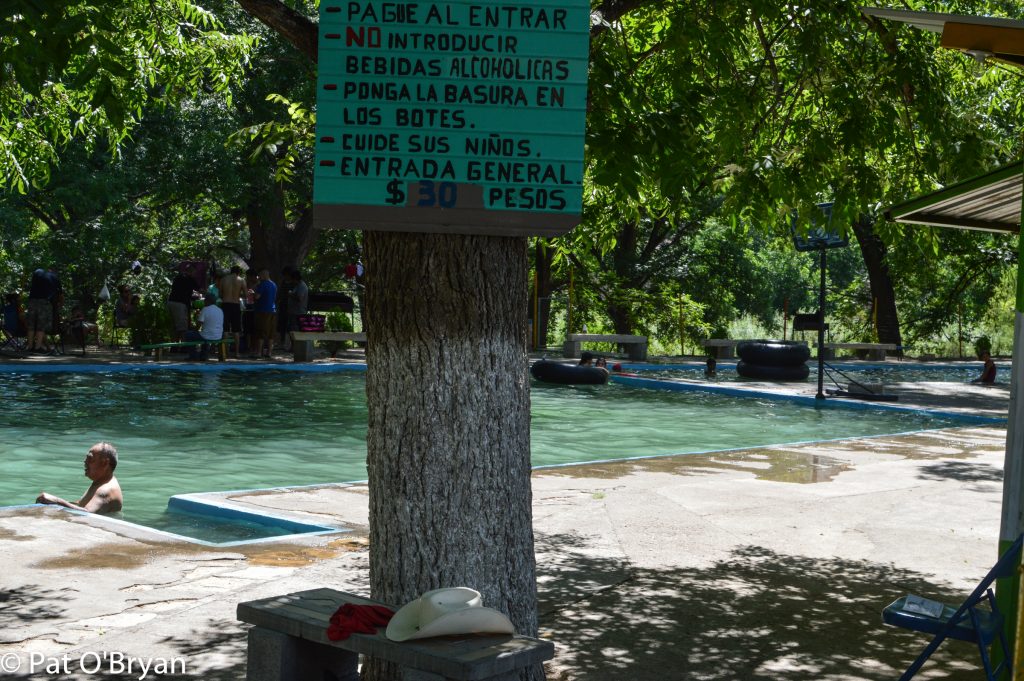 Sunday morning, Gloria and Sylvia made breakfast:  potatoes with Chorizo, eggs cooked to order, fresh pico, fresh salsa, refried beans, papaya, orange juice and coffee.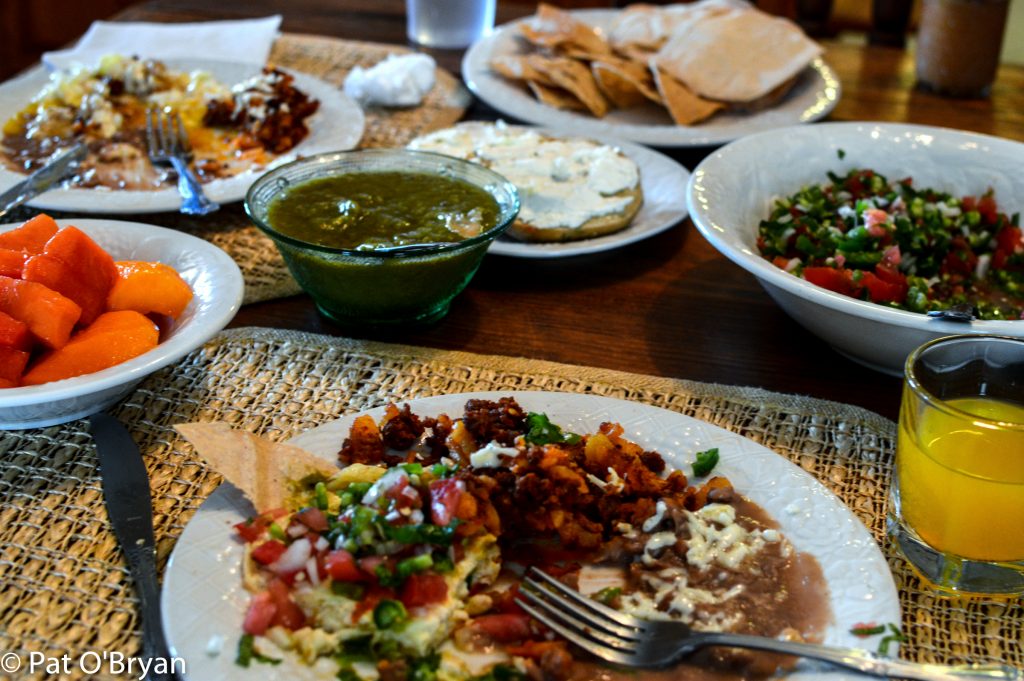 Then another tour- this time an extensive tour through town then out to the waterfalls. It's amazing how much water flows through San Carlos. Families swam in the river, kids jumped from the rocks…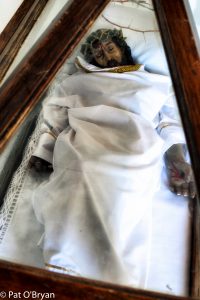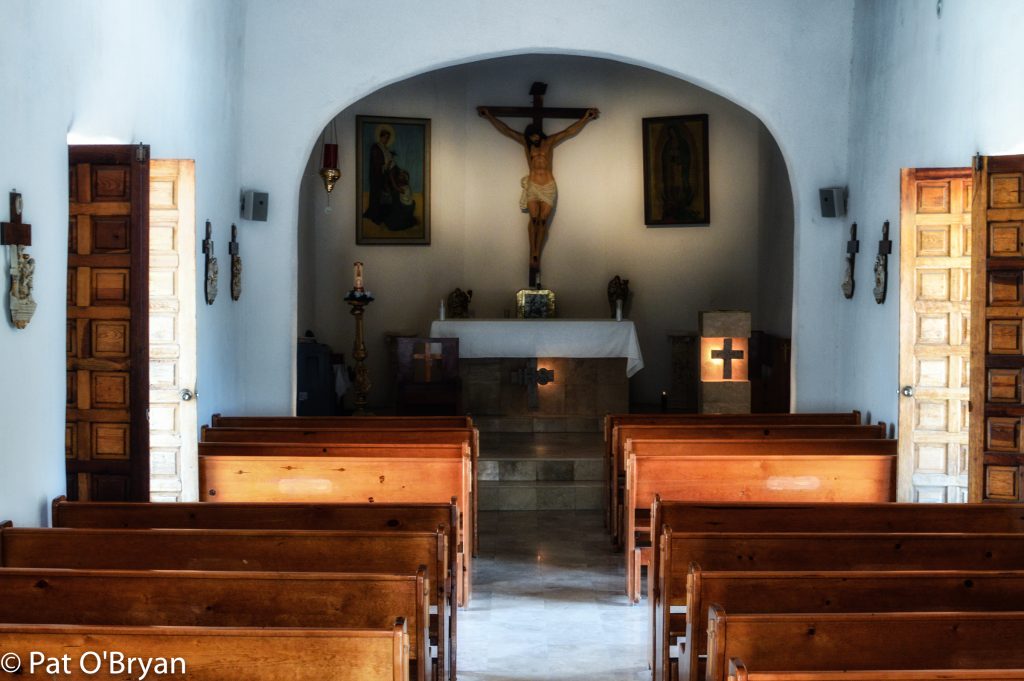 Then it was time to head back to reality.
Another easy drive back to OJ, grocery shopping: Mescal, 3 pounds of amazing cheese, 3 bags of groceries and fruit < $50.  That bottle of Mescal would have cost over $60 stateside.
But, let's look at reality for a minute.
There's a place just an hour or so from Presidio, Texas, where you can stay in a palace for the price of a nice hotel room, extremely talented chefs will hand-prepare a gourmet feast for you, you can sit on a huge tiled patio and look out over verdant fields to mountains and a huge sky…
Where you can have a beer in a perfect "old west" beer joint, visit historic architecture, go swimming under a waterfall…
And be back in the U.S. of A in about an hour.
And that's real.
Give Gloria a call.