Living in Terlingua, Texas opens up a universe of possibilities. All you have to do is adjust your concept of "neighborhood," and you have access to a variety of fascinating experiences.
Living at Terlingua Ranch is one experience. Isolation. Off the grid. Technicolor sunsets. Wild, unpredictable weather.
Terlingua Ghost Town is a whole 'nother experience. Great food, music on the porch and in the bars, and some very eccentric characters to hang out with.
Last weekend, LaRoja and I spent the weekend in Lajitas visiting with Trevor Hickle and his family. Lajitas is a resort, so we luxuriated in the pool, had dinner delivered to Trevor's place, did some pickin', and ended up in a very nice suite.
This weekend, we joined Jalapeno Schwartz for a grand tour of Marfa.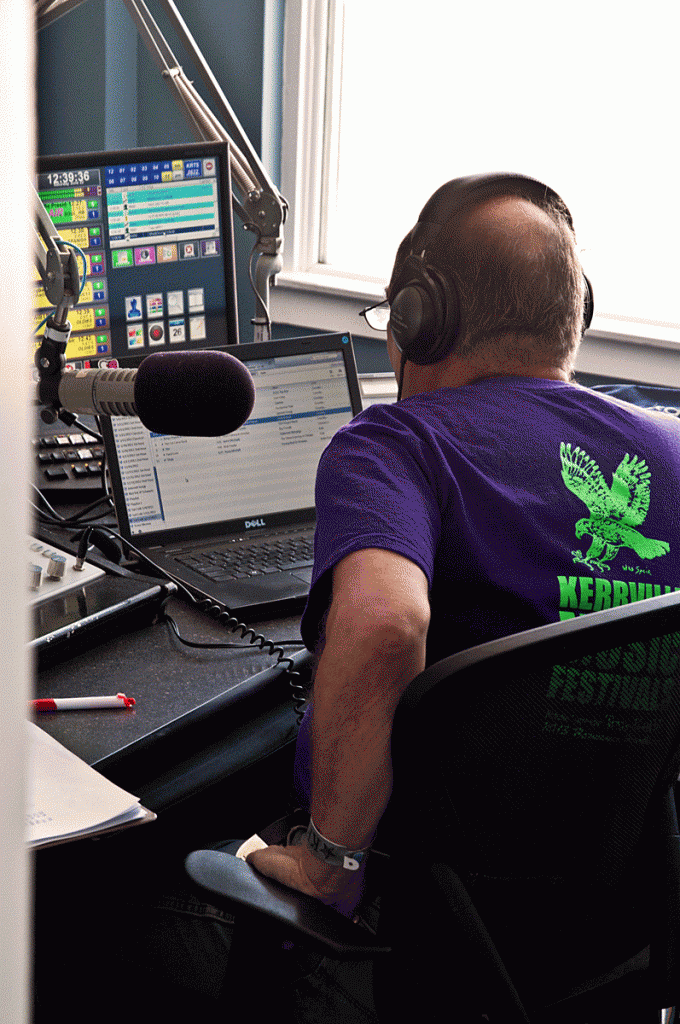 JP (Jalapeno) Schwartz is a country doctor, volunteer public radio DJ, and local celebrity.  He and LaRoja have known each other since they were in college.
Initially, I didn't "get" Marfa.  After hanging with JP all day and being introduced to the city by an insider, I totally get it.  It's definitely the cultural center of this part of Texas.  You meet lots of people whose other home is a high-rise apartment in New York or whose other store is on Rodeo Drive in Beverley Hills.
The town is influenced heavily by the Chinati Foundation.  Initially started by the artist, Donald Judd, the Chinati Foundation owns a LOT of the real estate, including several buildings downtown.  Judd initialized the concept of flooding the town with modern art and the Foundation has continued and expanded that concept.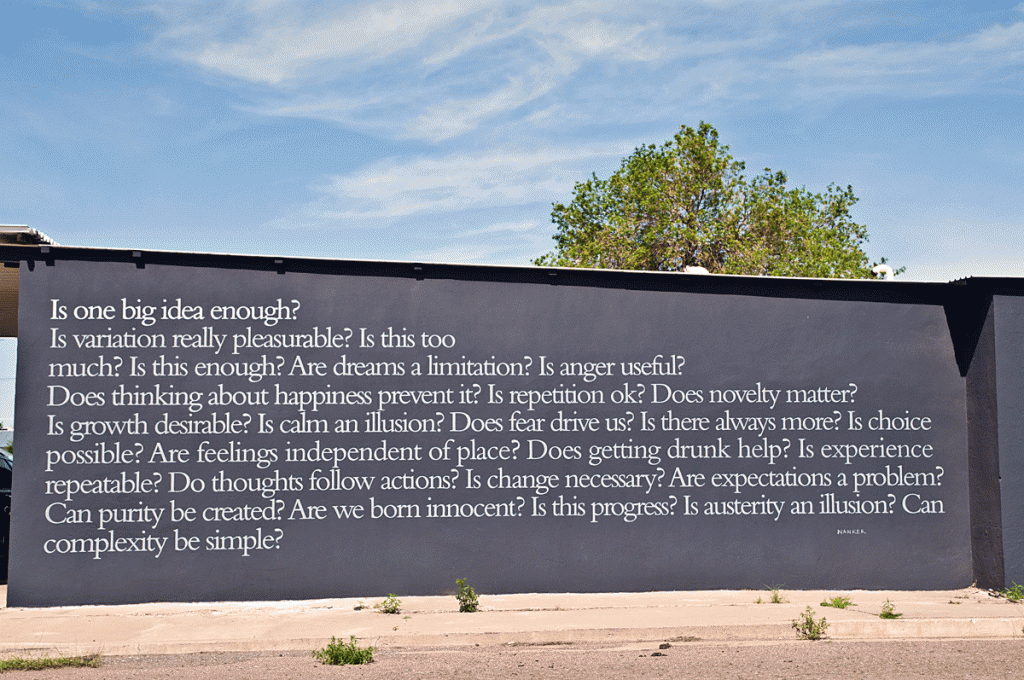 This has influenced the town- there's art everywhere.  And that attracts people who are into art and the artistic lifestyle.  There are millionaires – you pretty much have to be one to buy a house in Marfa.  There are also a lot of young, creative people living there- waiting tables, riding bicycles, walking dogs, and contributing to the artistic vibe.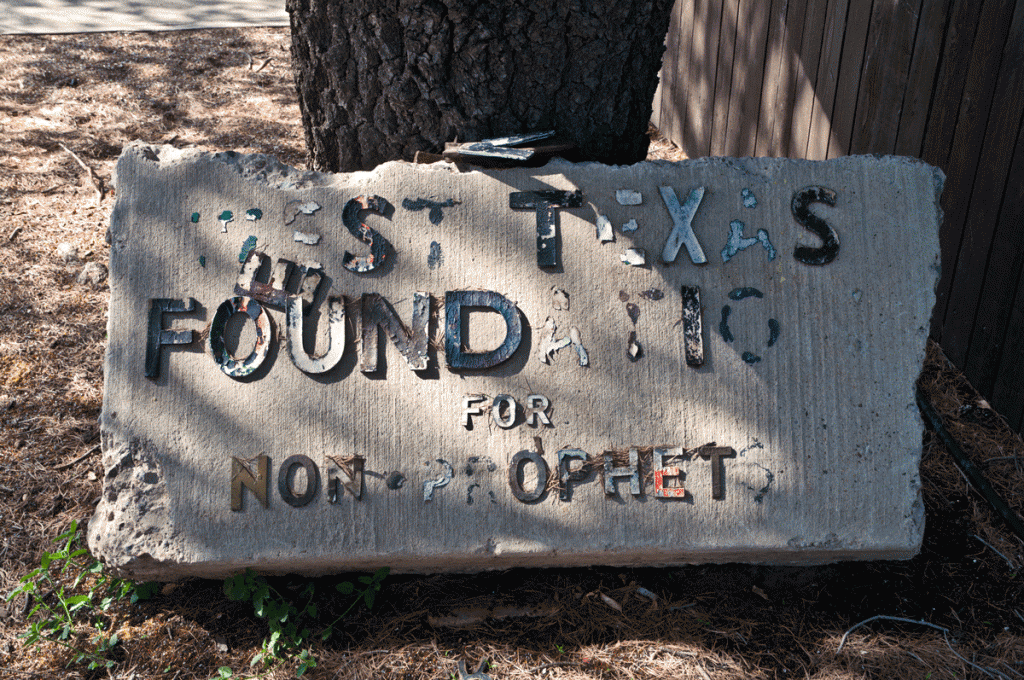 Driving around the town is a study in contrast.  There are falling down adobe houses that haven't been hit by the overall gentrification yet.  There are remodeled and restored adobe houses that would look natural in the upscale sections of Santa Fe.  And, there are some architectural wonders that are totally out of place in the middle of the desert- and fit right in.
Good wine and food enhance the artistic experience, and Marfa's got 'em.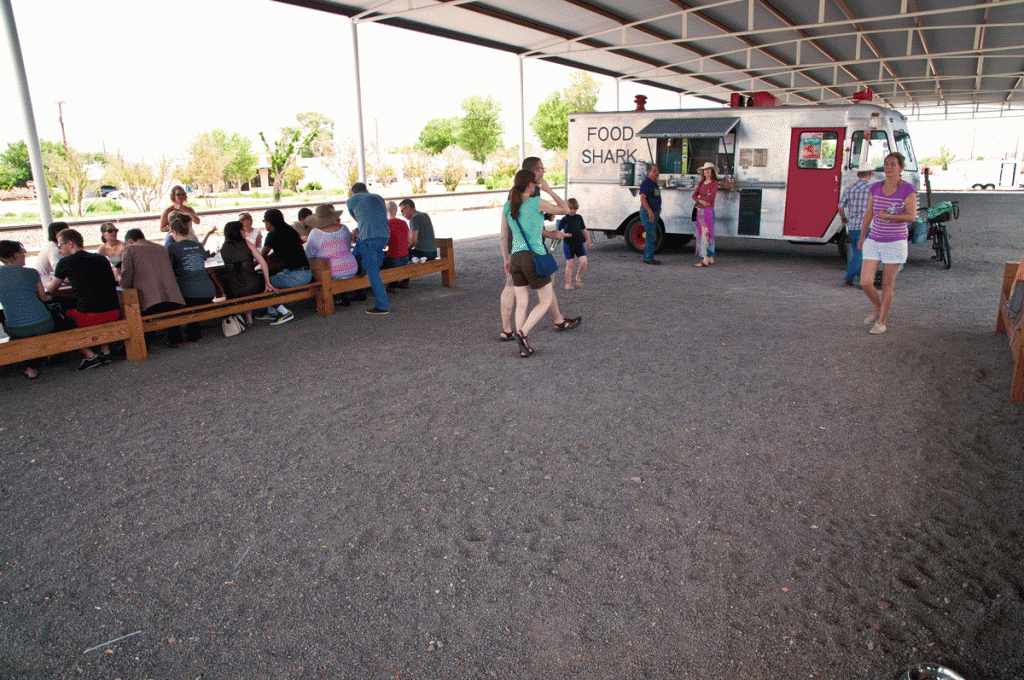 The center of the culinary universe is The Food Shark, a converted airstream trailer that pulls up downtown at lunch time.  A gourmet chef dishes out servings of natural, local meals.
We had brunch this morning at the Cochineal.  Very creative breakfasts, ranging from eggs/bacon/hashbrowns to greek yogurt and fresh fruits.  Especially appreciated was the coffee bar- self-serve, no limit, dark and fresh coffee.
There is a museum of vintage electronics that has to be seen to be believed.  Dozens of "futuristic" TVs and Stereos from the 60's.  Warhol would love this place.  It opens at 9:30 PM and serves gourmet grilled cheese sandwiches.  The dining area is inside an old refurbished Bluebird bus.
A little farther down the food chain, but at the top of the live entertainment chain, is Padre's.  Wilco, Julian Lennon, Robert Plant are just a few of the acts that have wandered in and played there.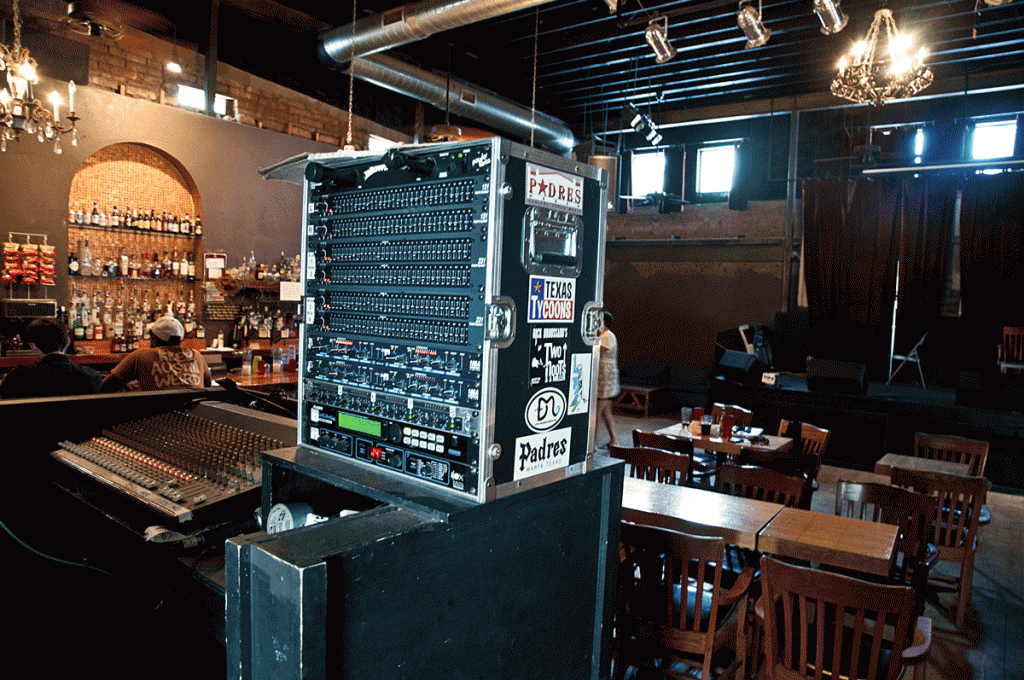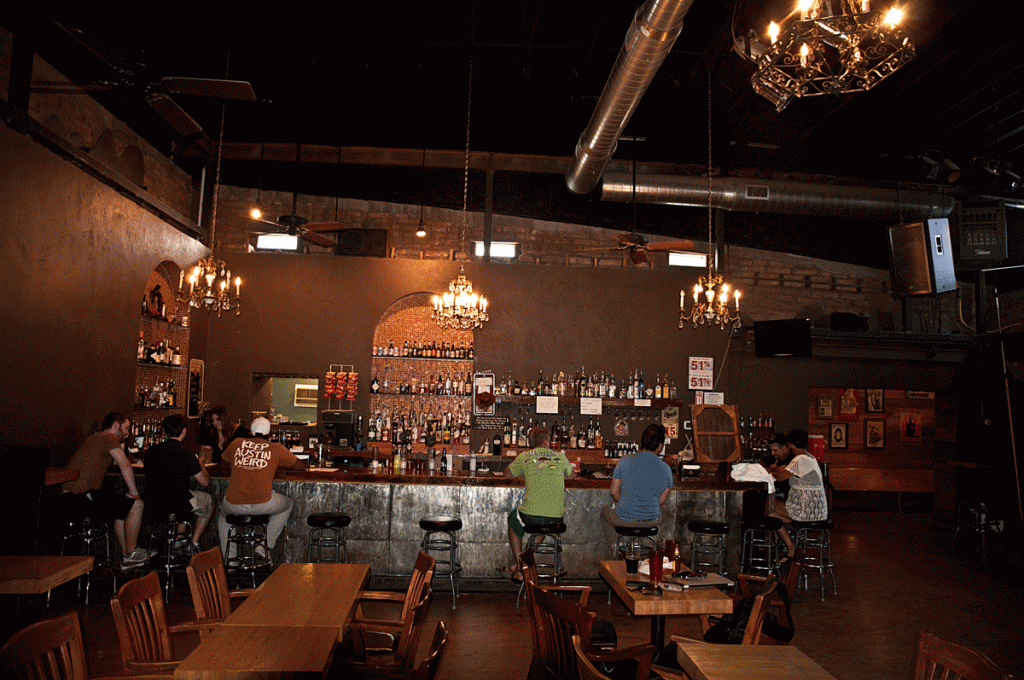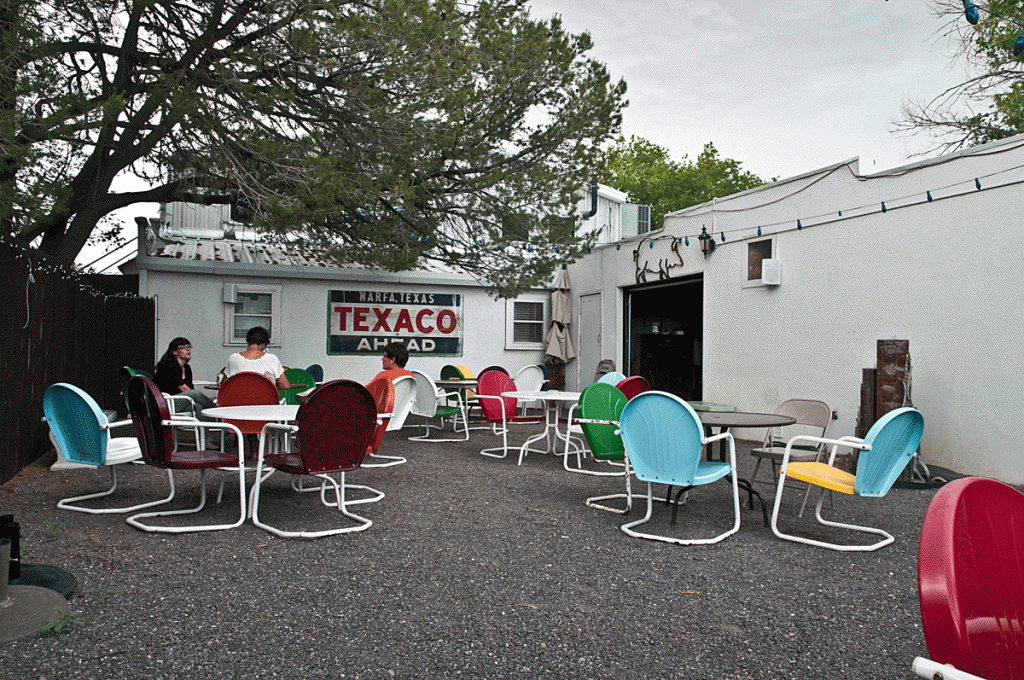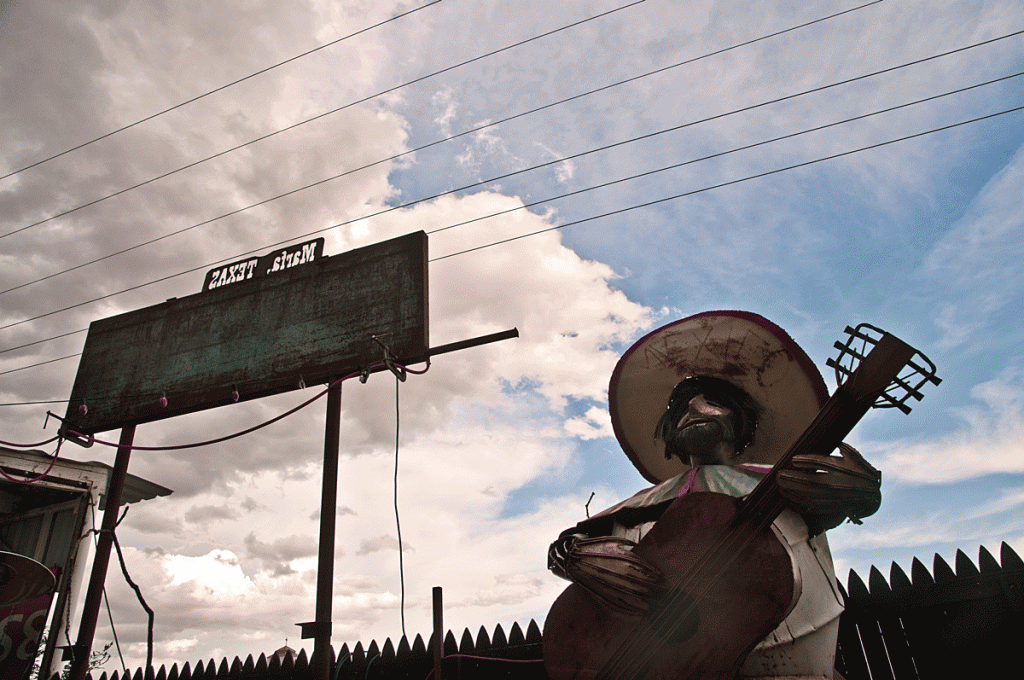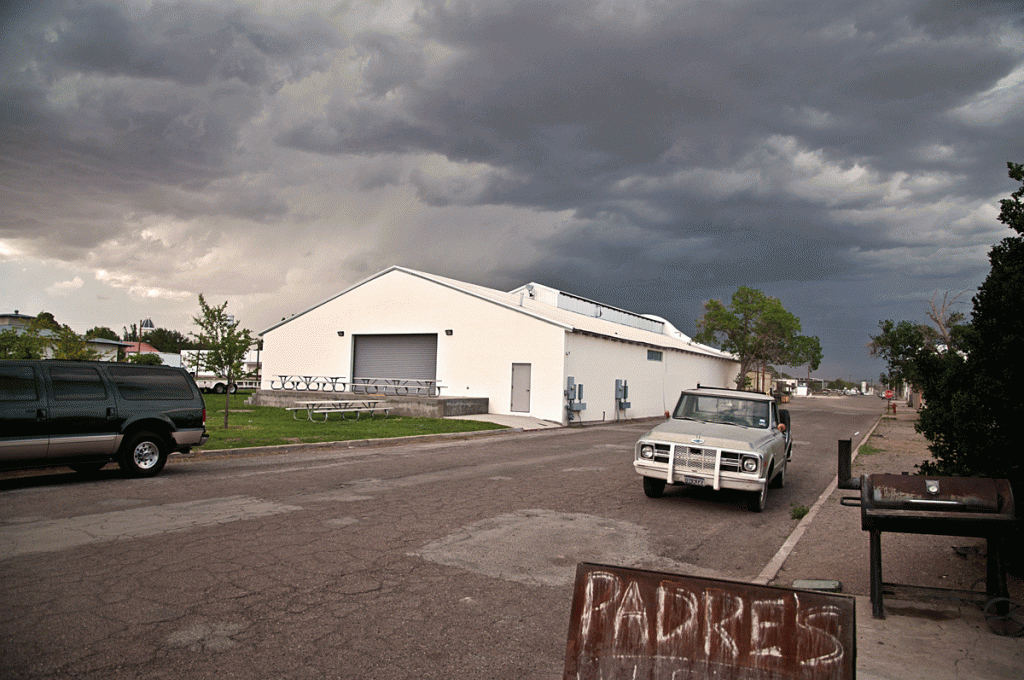 We had dinner there Friday night- patty melts, french fries with chile and cheese.  Not quite gourmet, but not bad.  That night, there was no band.  Sam Cook and Ray Charles played through the PA.  Black Butte Porter was on sale.
Saturday night, Sideshow Tragedy played.  A guitar/drums duo.  Very hip, lots of slide guitar – National Steel through an Orange amp.  Loud and clear.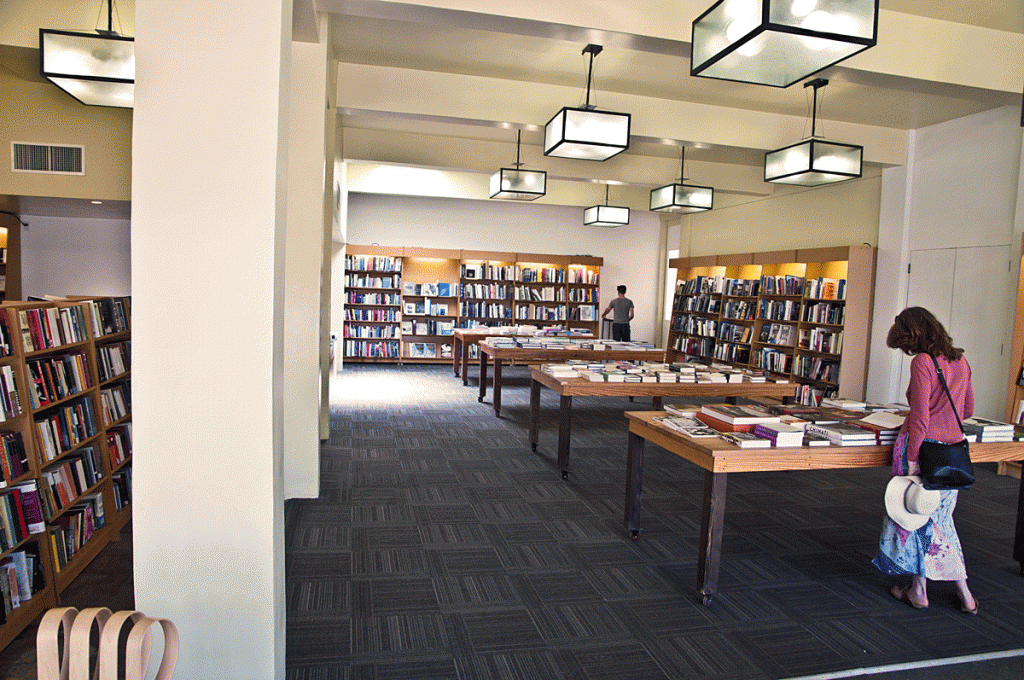 Walking around downtown, you'll see lots of art galleries.  The famous Paisano hotel is still there – a slice of the past preserved.  Elizabeth Taylor, James Dean, and the rest of the stars of the movie "Giant" stayed there while they filmed.  The ghosts are quiet but very present.
The Marfa bookstore is a treasure of Texicana and modern art books.  They also sponsor author's nights where writers and locals gather to discuss literature.  The roster of writers is New York/LA quality.  What are they doing out here?
There were posters up for the Marfa Film Festival next weekend.  We'll be hosting the 7th Legiondary Jam that weekend, but may sneak up to Marfa before the show to catch a flick.
Outside of town is El Cosmico.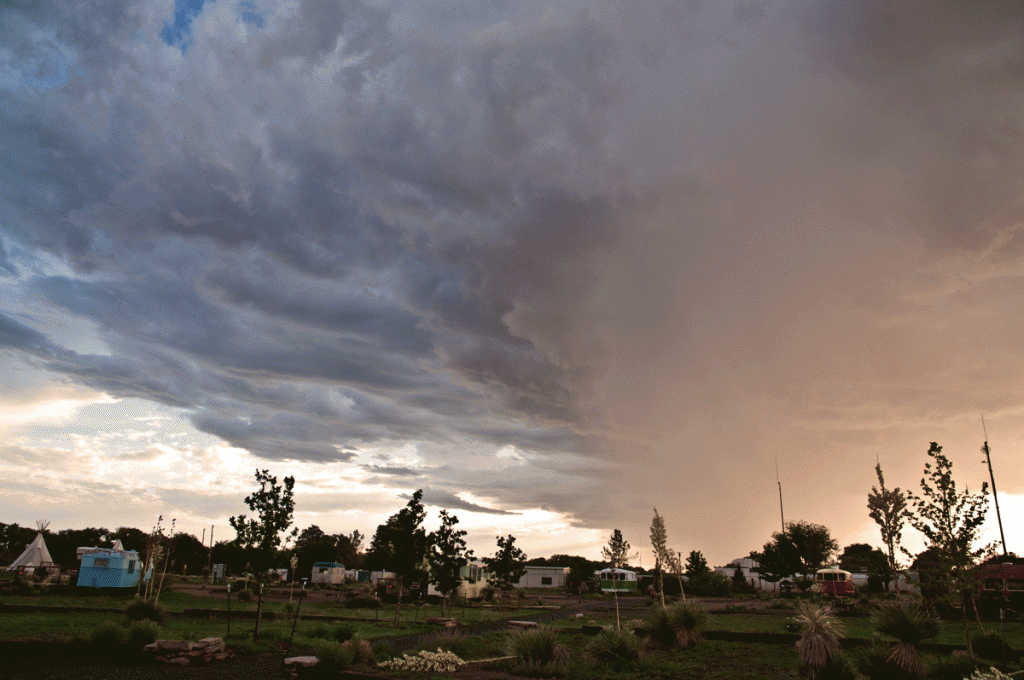 El Cosmico is almost a city to itself, maybe a half mile from downtown Marfa.  Vintage Airstream trailers are available to rent.  The office is a work of art itself, with cool posters on the wall, vintage furniture, books, a kitchen…
Occasionally, El Cosmico hosts music festivals.
Hipsters from Austin abound.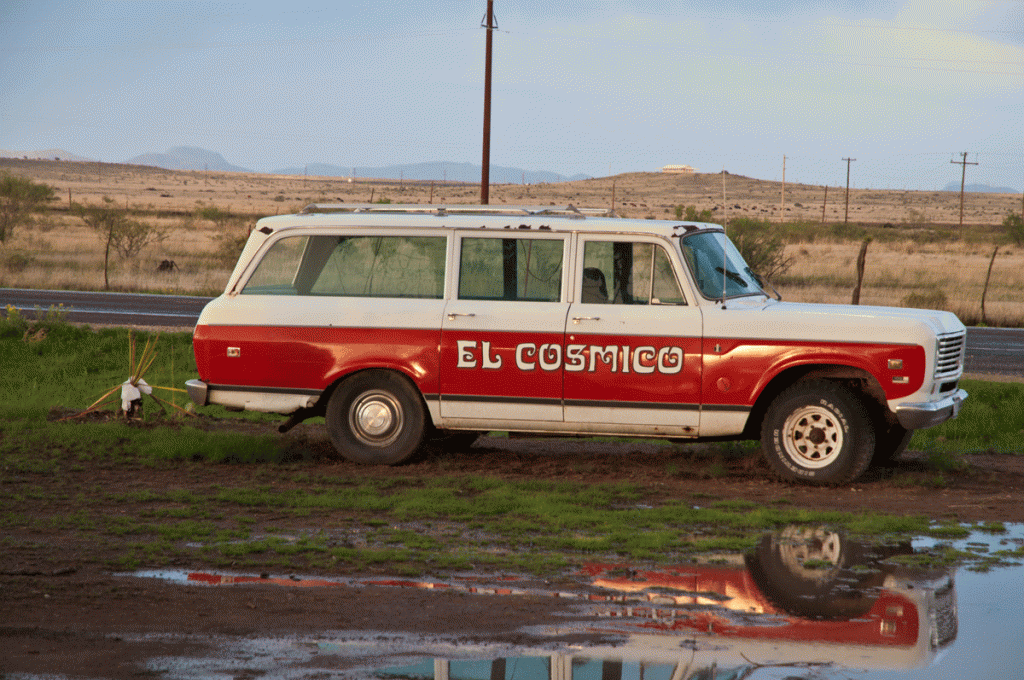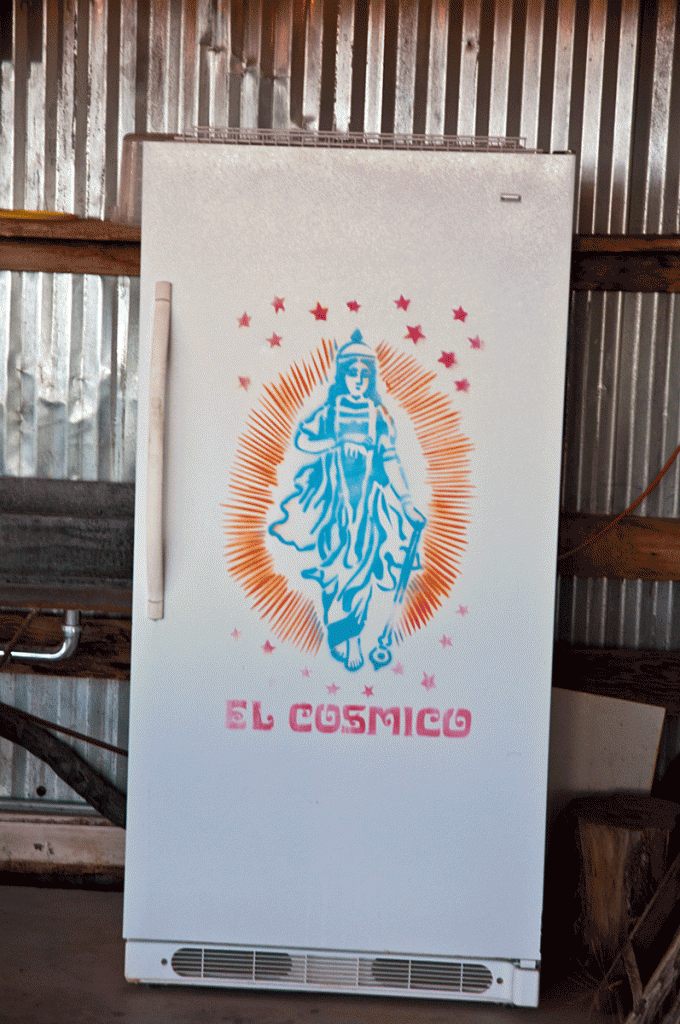 Marfa gets a lot of press.  That's probably why Playboy decided to put up a neon sculpture on the West side of town.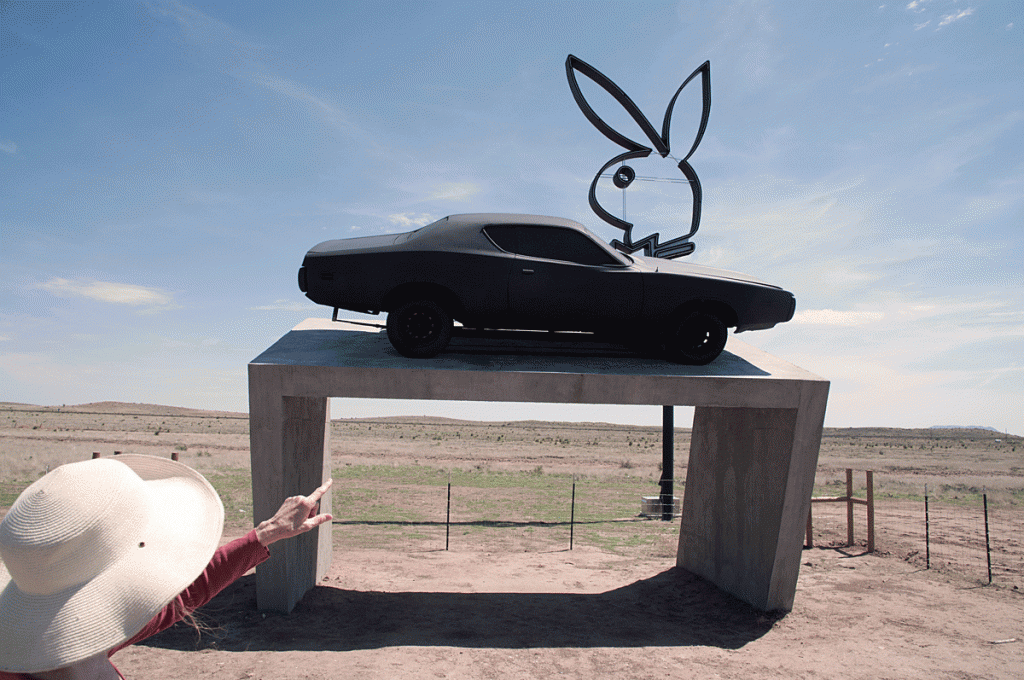 The existence of such a thing in such a place has already generated quite a bit of notoriety and publicity.  Rumor has it that Playboy might have skipped a few steps in the process and forgotten to get some necessary permits.  In the meantime, there it is.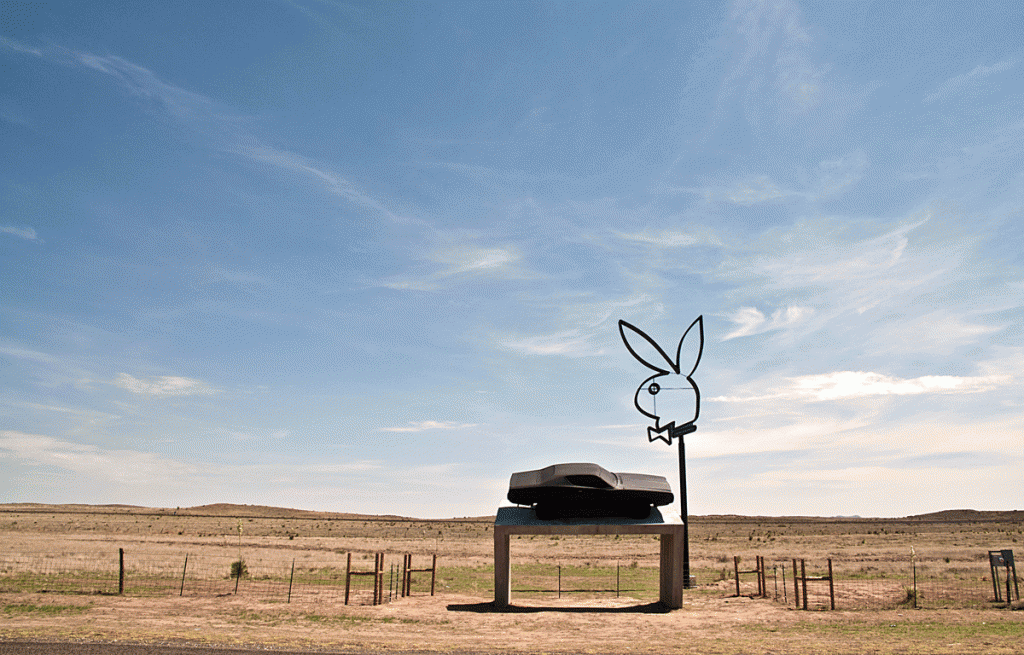 After a full day with JP, topped off by the best grilled cheese sandwich I've ever had, LaRoja and I retired to our RV.  We stayed at the Tumble In park.  A mini-El Cosmico in the making, The Tumble In has vintage trailers as well as clean showers, full hook-ups, washer/dryer (with suggested donation), and clean views for miles in all directions.
Friday night, we watched three separate lightning storms in the distance.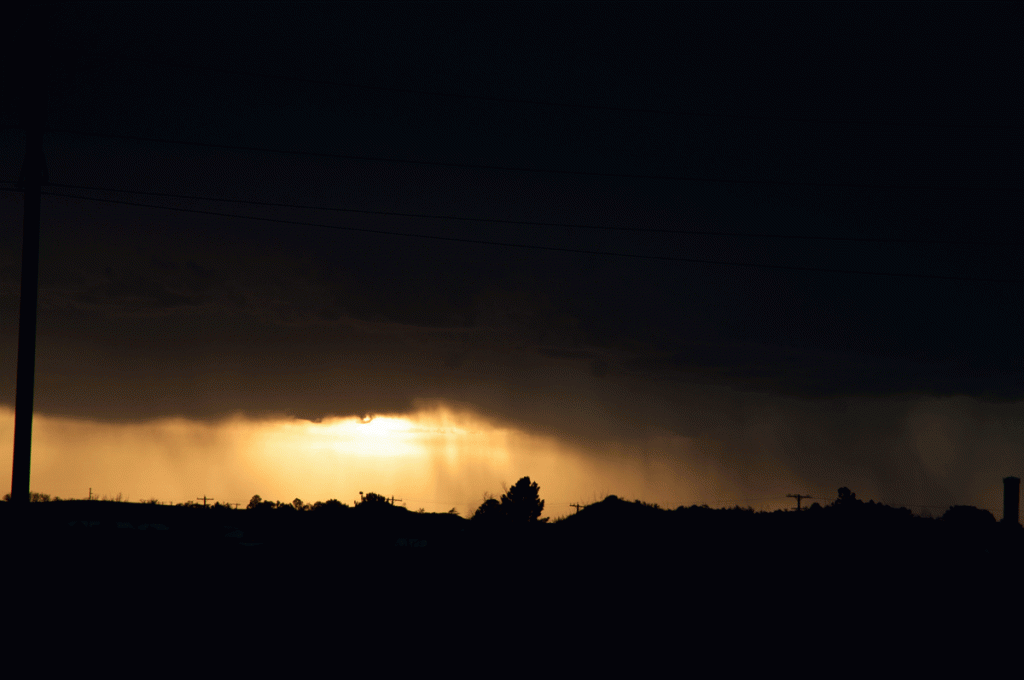 Even the RV park in Marfa is artsy and hip.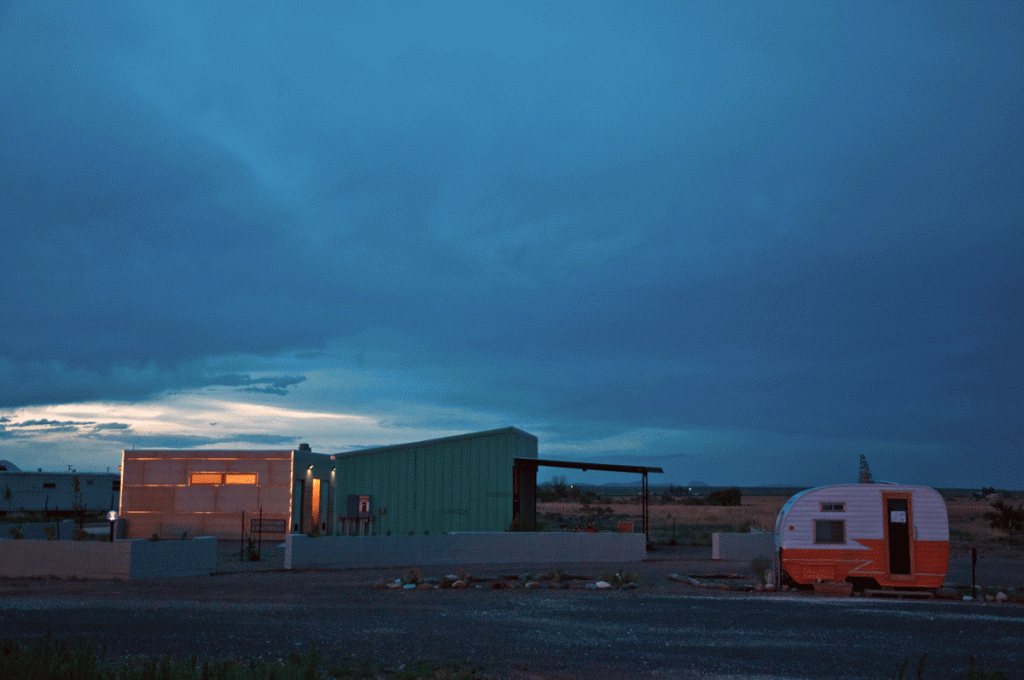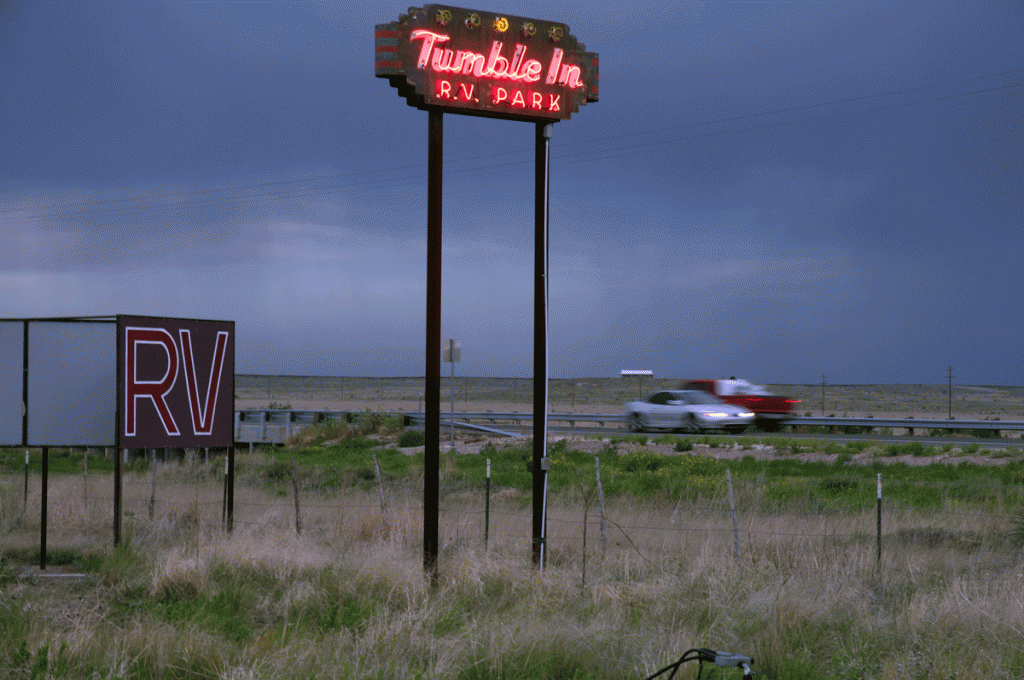 I love my job, by the way.  This was a business trip for me.  I shot some video, took lots of photos, did some research for blog posts and books, and had a great time.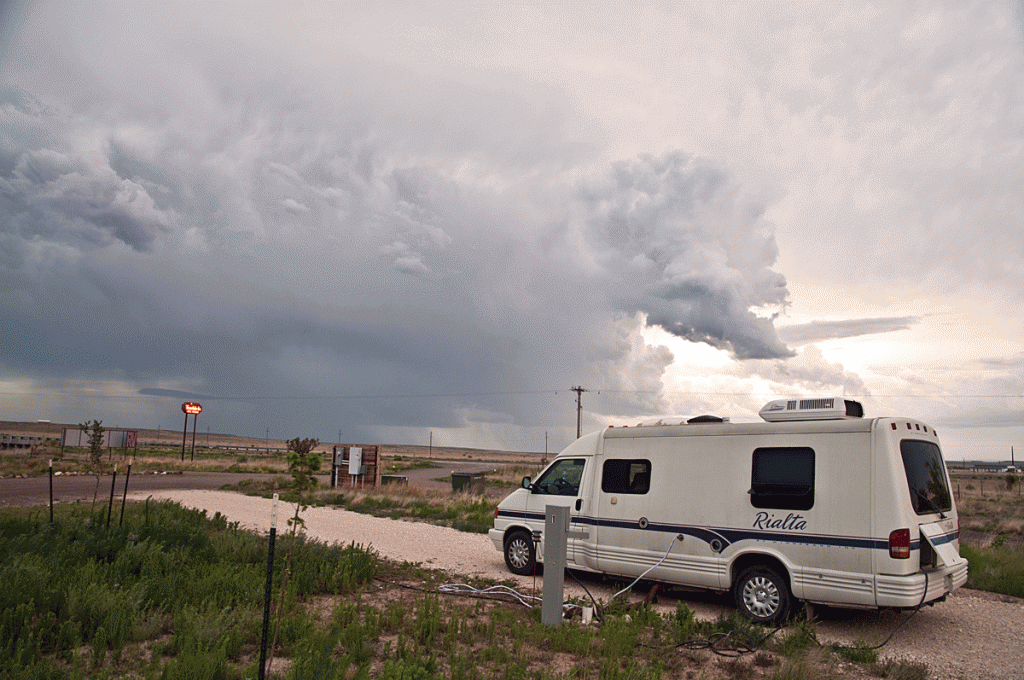 Here's my office.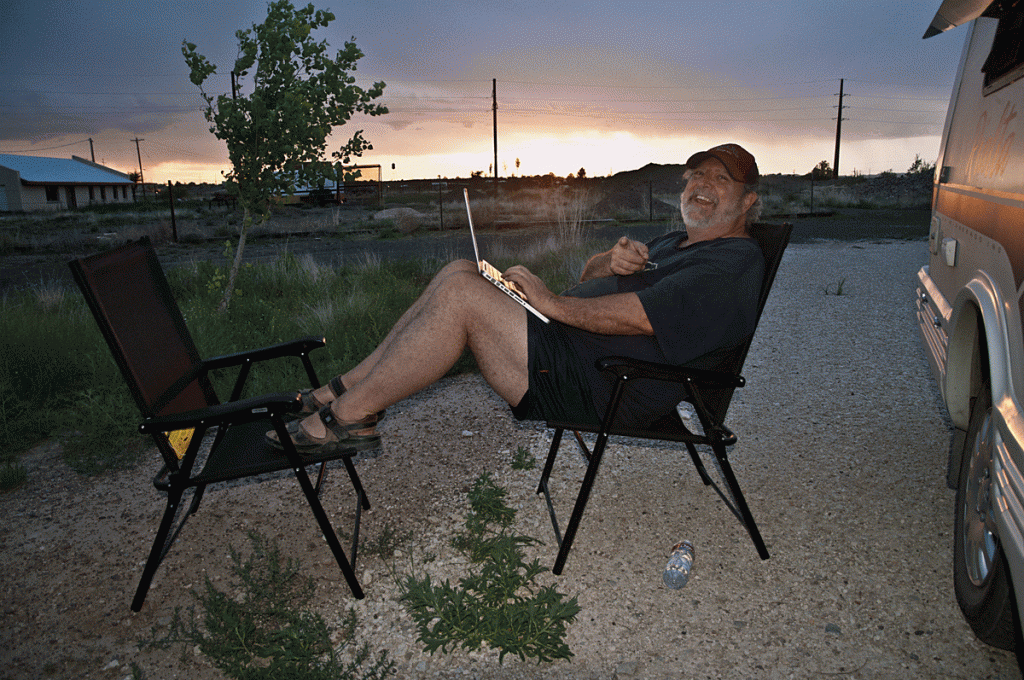 We've only been living here for two months.  It's an adjustment.  The nearest Starbucks is four hours away, for example.  Organic food and fresh veggies are hard to find.
But, by expanding the concept of "neighborhood," we've got night life, resorts, gourmet food, art, and very hip culture right in our back yard.
Reminder:  the next Legiondary Jam is next Sunday, the 30th, at the American Legion Post near Terlingua.