Carolyn Wonderland, Butch and Rory Hancock, Alan Munde, Jitterbug Vipers, Ghosts Along the Brazos… and more!
Slim would'a had fun…
Actually, Doug Moreland did a chainsaw sculpture of Slim that hung out on the stage during the festival…
Jeffro Greasewood, the former promoter of Rice Fest in Fischer, Texas, showed how a music festival is supposed to be done. He had a lot of help, most notably from David Crum who provided the big tents, helped set them up, and did some major landscaping to prepare for the show.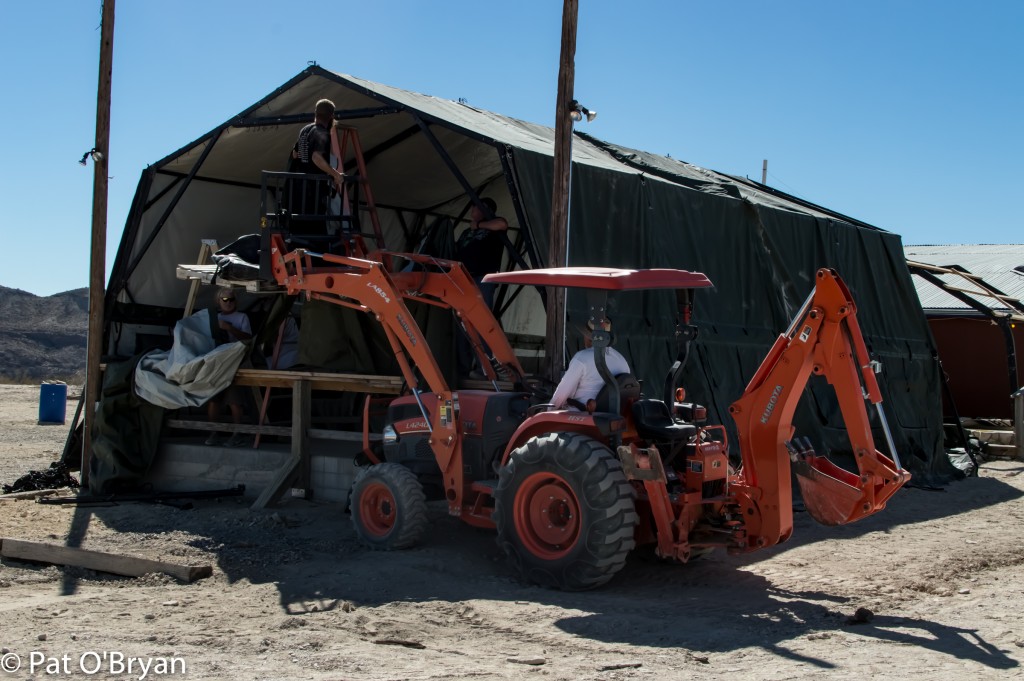 Unlike, for example, the Viva Terlingua Festival which relies on the venues' existing sound systems, Jeffro called in the pros for sound and lighting and they were superb. I'd never seen a digital system in action- the monitors and lights were controlled from an iPad, fer gosh sakes.
I was able to attend Friday night- Uh Clem, Charlotte, and Crystal opened the show. The Jitterbug Vipers brought the big band- keyboards, vibes, sax, piccolo (!!!), plus the usual suspects.
Butch and Rory closed the show with the help of Charlotte and Chet O'Keefe-
All in all, it was familiar and different at the same time. Everybody who played was a regular or a local- we've heard most of them on the porch.
On the big stage with the state of the art sound system and lights there was a sheen to the performances that was new.
Saturday night, I played an outdoor show in Lajitas for the Bike Fest with the Fabulous Vortexans. It was a fun gig- Chet O'Keefe played the last set with us which kicked the show up a notch. We kept a couple of hundred cyclists dancing and entertained until 11:00, at which time I loaded up my gear and hurried back to Slim Fest just in time to catch the last of the Ghosts Along the Brazos' show. It sounded just fine, the dance floor was packed, and the crowd spilled out of the tent onto the Las Ruinas Campground.
Everybody was buzzing about Carolyn Wonderland's show.
After the Ghosts' set, I was hanging out in the green room talking to some pickers when Carolyn Wonderland wandered in.
Personal note- when I first met miss Carolyn she was 16, had brown hair, and a different last name. I knew the first time I heard her sing that she was going to be famous- we all did.
Later, she was a waitress at Dan Electro's guitar bar, and would sit in with bands. Eventually, she put together her own band. Since she already had two guitar players, I signed on as her bass player and we proceeded to play every dive in the Houston area.
I remember when she first started bringing her guitar to gigs. Although she was already an accomplished pianist and played the horn, her talent on guitar wasn't immediately apparent.
(I also remember watching "The Road To Austin" with Gary Fortin a year and a half ago and watching Carolyn burst into a huge grin when Bonnie Raitt joined her on stage.  Her talent emerged to the point where she can hang with the best.)
The band started getting popular and having more opportunities- at that time I owned 34th Street Recording Studio in Houston and was married with a young son at home. It really wasn't fair to my son or wife for me to be gone so much.
In addition, I was turning down recording gigs to make much less money playing bass in a bar. And, to be honest, I was a solid bass player, but I'm much better on guitar and keys. I told the band to look for a better bass player.
It was great to meet and connect with the woman that girl has turned into. I've had lots of high points in my music career- Opening for Cheap Trick, Heart, B.B. King, etc.   Jamming with Hubert Sumlin, Buddy Guy, and many more of my heroes at Antone's…  and I treasure my time in Carolyn's band as much as any of those experiences.
Talking with Jeffro and Sha yesterday at Posada Milagro, they were already discussing Slim Fest tWo.
I'll be there.
Here's what it looked like-