The Road to Austin and Doug Moreland and the Flying Armadillos – this week in Terlingua.
I've said that "everything comes to Terlingua if you just wait long enough."
Sometimes you don't have to wait long at all.
Gary Fortin brought his amazing movie, "The Road to Austin," to Lajitas last Wednesday.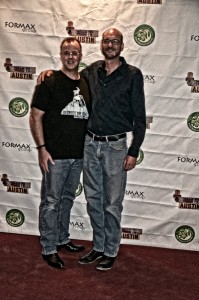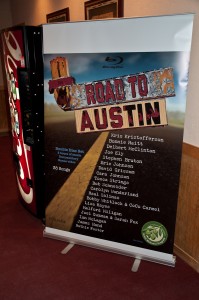 The movie starts out with a brief history of Texas music, then morphs into the story of a concert held in Austin.  Stephen Bruton was music director of the concert. A few months before the concert, Stephen was diagnosed with inoperable cancer. He heroically did a fine job producing the concert with Gary, but by the night of the show he was very ill and weak.
The concert features some stunning music and surprising combinations of talent, but the real story is the love all the people on stage- including Bonnie Raitt and Kris Kristofferson- and in the audience had for Stephen.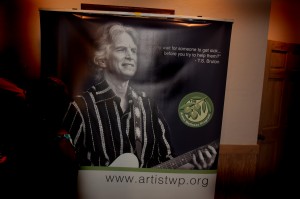 In memory of Stephen, Gary and several others have created the Artist Wellness Program. You can read all about it on their site- here's a brief synopsis.
In the name of Stephen Bruton, an Artist Wellness Program has been established to aid in the prevention and early detection of life threatening disease and to guide the participant towards a higher state of ongoing wellness and quality of life.

This program has 4 major components that will be used to guide a participant from their current state of health and well being towards a higher state of holistic wellness, balance and harmony.

Advanced Biomarker Blood Testing
Comprehensive individualized results reporting (HIPAA Compliant)
Interactive Mobile/Desktop application and tracking software (wearable device)
Associate Supplements and Resources

The goal of this program is to help participants; gain an in-depth understanding of their body's current state of health, deliver individualized results to them in an easy to comprehend manner, provide them the supplements and guidance to move towards increased wellness, and give them the tools they need to track their daily progress.
Gary screened the festival cut of the movie, which was 75 minutes long. The final cut will be over 3 hours long. I'll buy the first copy.
Saturday, on the way to the Doug Moreland Concert in Lajitas, I stopped by the Starlight Theatre, where they were cranking up for a concert of their own. They also had a glass blower doing demonstrations.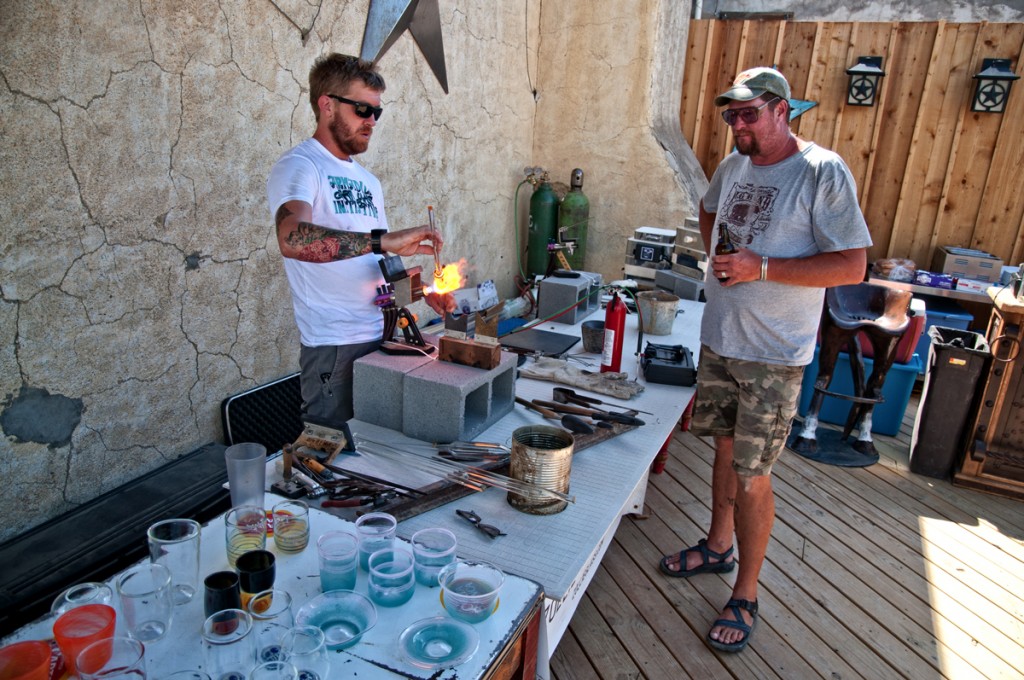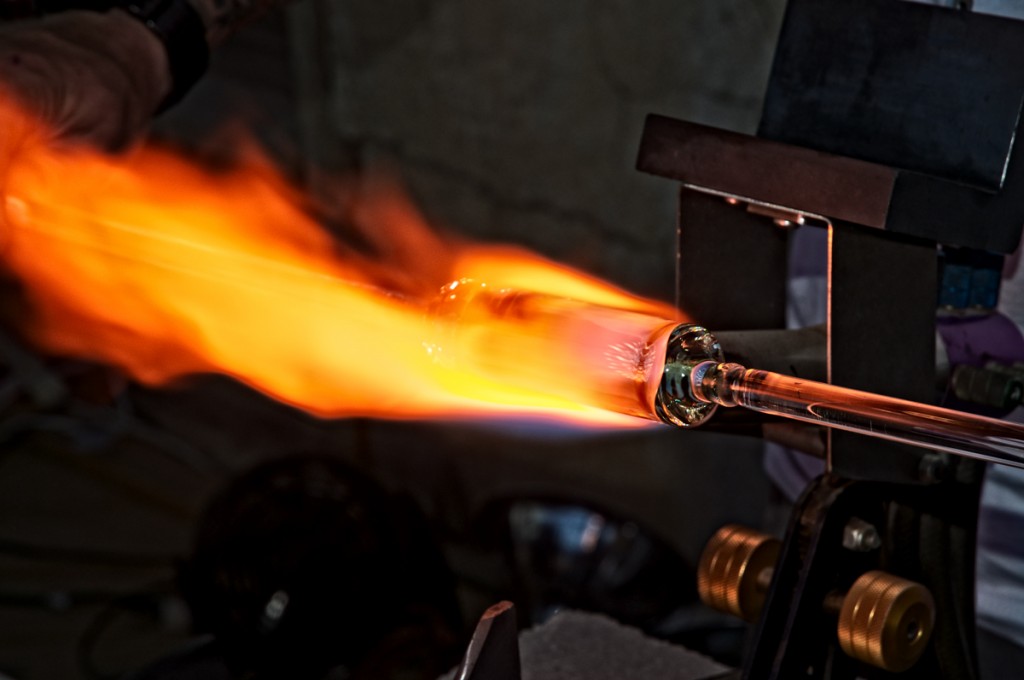 The concert at Lajitas was held at the Bell Tower, and was well attended. The bell tower area has excellent shade and easy access to the restaurant and bar.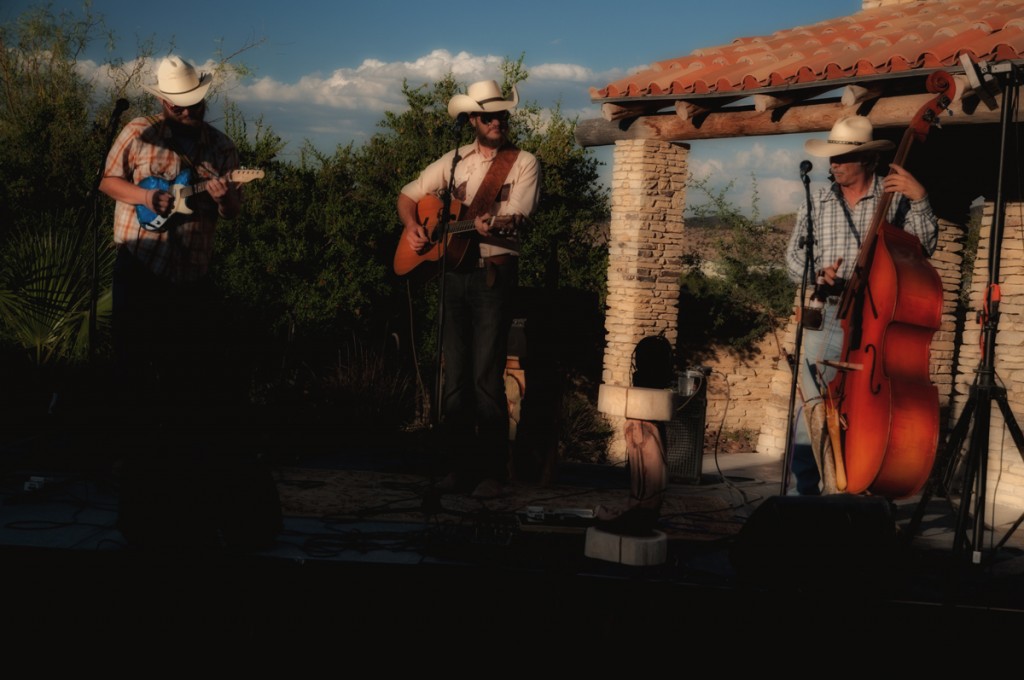 Doug and his Flying Armadillo band put on an interesting show. Texas Music and Western Swing with plenty of humor. It was fascinating to hear a band with, on some songs, bass and two fiddles. It worked.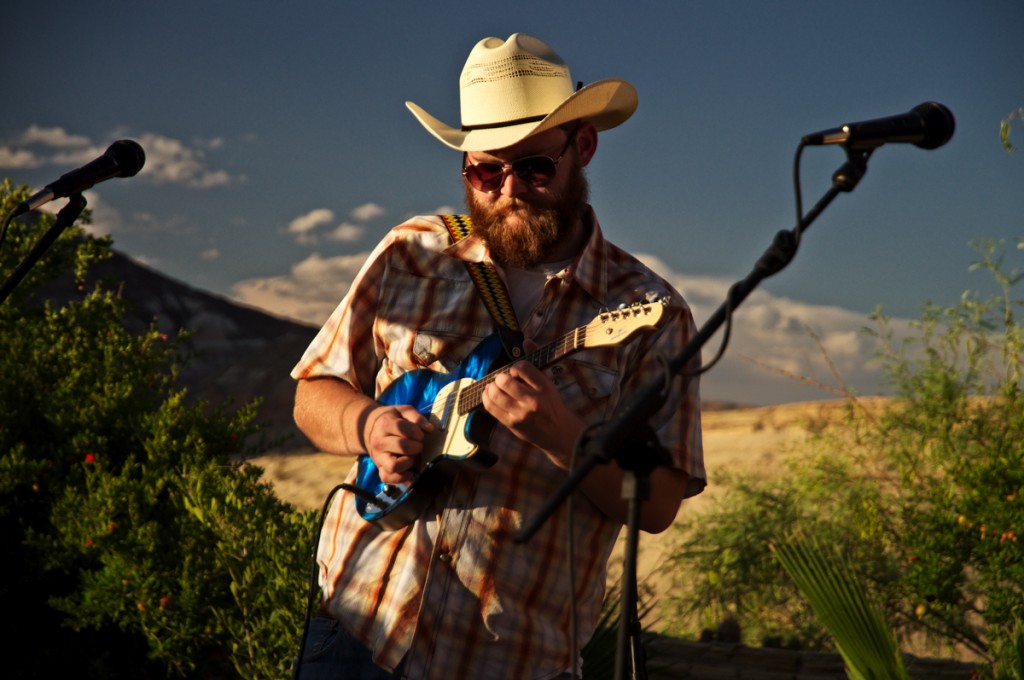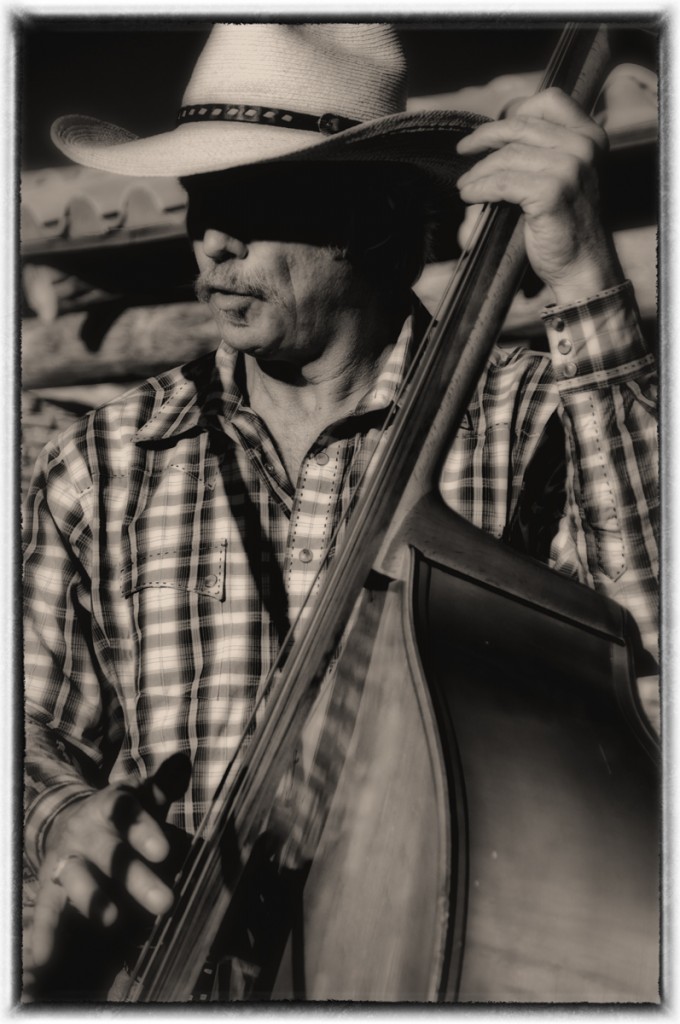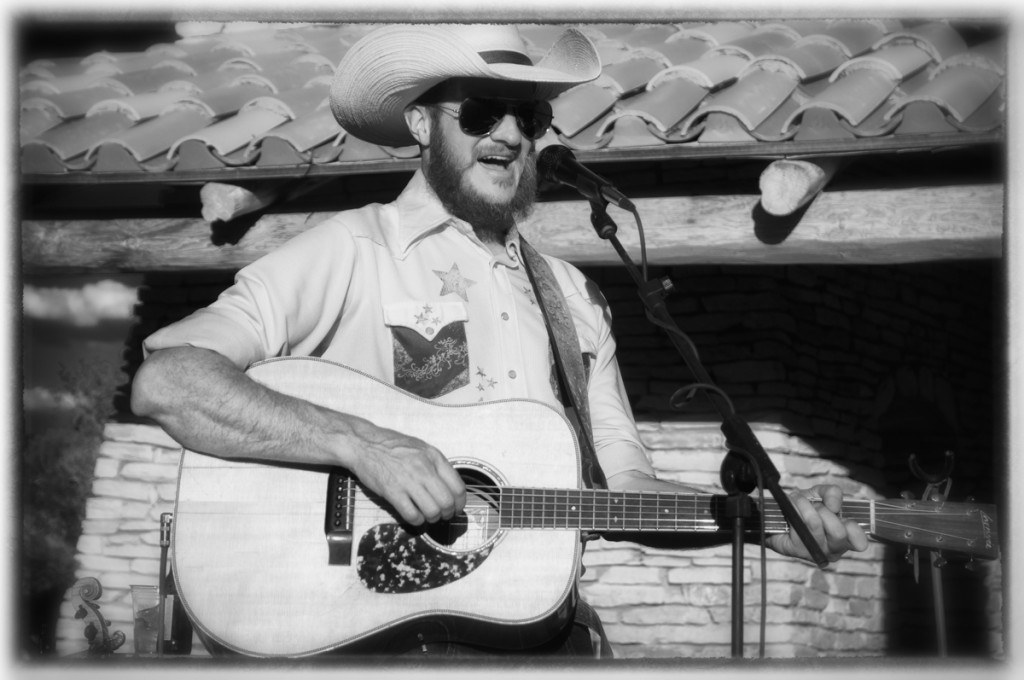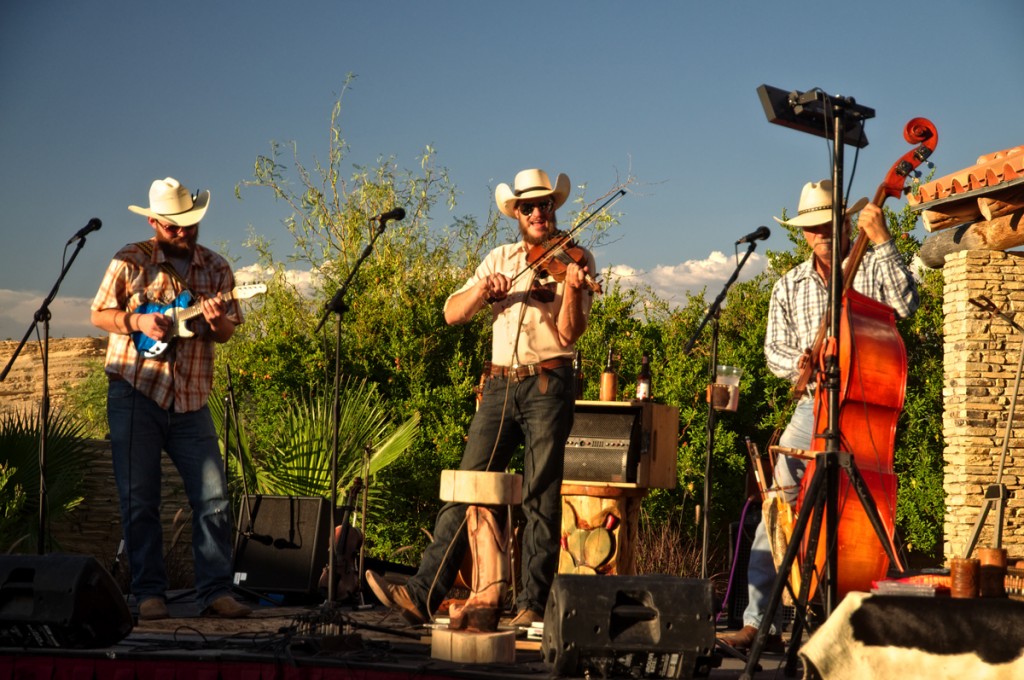 In addition to the fine music, Doug brought along some chainsaw art and Randy brought some leather goods he'd made. At least one piece of art found a new home.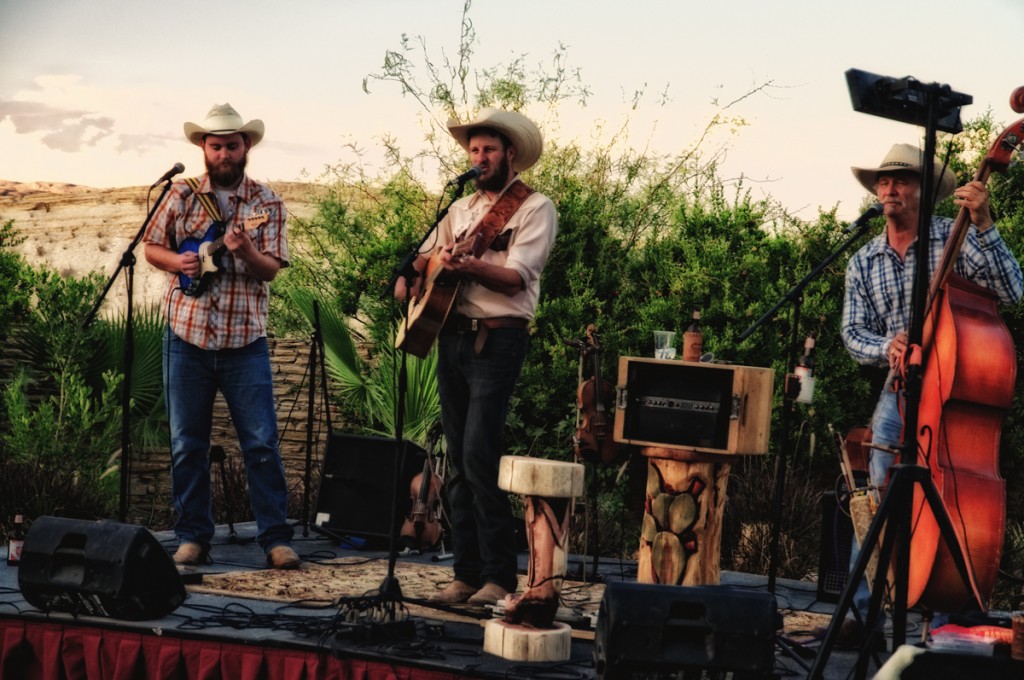 Trevor Hickle and I enjoyed the show from behind the sound mixing board. We've started a sort of sound company, apparently. It will be nice to have something resembling a professional sound rig here in South Brewster County.
It was the first time we'd used the new system, and there were a few gremlins. I'd like to compliment Doug, Wes, and Randy for being good natured about that. It's unlikely anybody in the audience noticed, but it made for an exciting evening for Trevor and me as we rode herd on the nastiest ground loop ever seen south of Dallas.
Doug drew a good crowd of locals and tourists.
As the sun set, we kicked back and watched Lajitas Mesa turn gold while we enjoyed a cold one and some good Texas swing.