Fire in the Terlingua Ghost Town!
Last night, a group of locals was sitting on the porch outside the Starlight Theatre when a plume of black smoke starting snaking up in the sky in the Terlingua Ghost Town.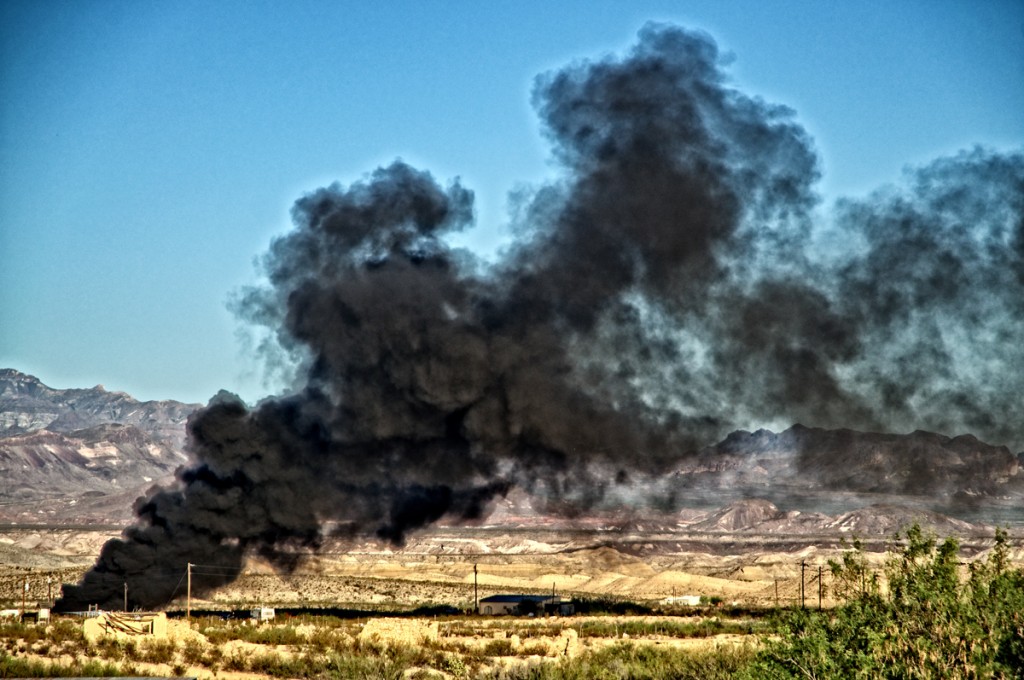 I jumped in the 4Runner and raced down to take a look.  A motor home was on fire.
NEW – You can donate to the Sam and Dani fund right now!

When you click the "Donate" button and contribute, your money goes to TerlinguaCares, a 501 c 3 non-profit based in Terlingua, Texas.  100% of all donations made will go directly to Sam and Dani.

 
I drove to the High Sierra and alerted Herman to call 911.  It turns out that several others also called 911.
Very shortly, Deputy Patrick was on the scene.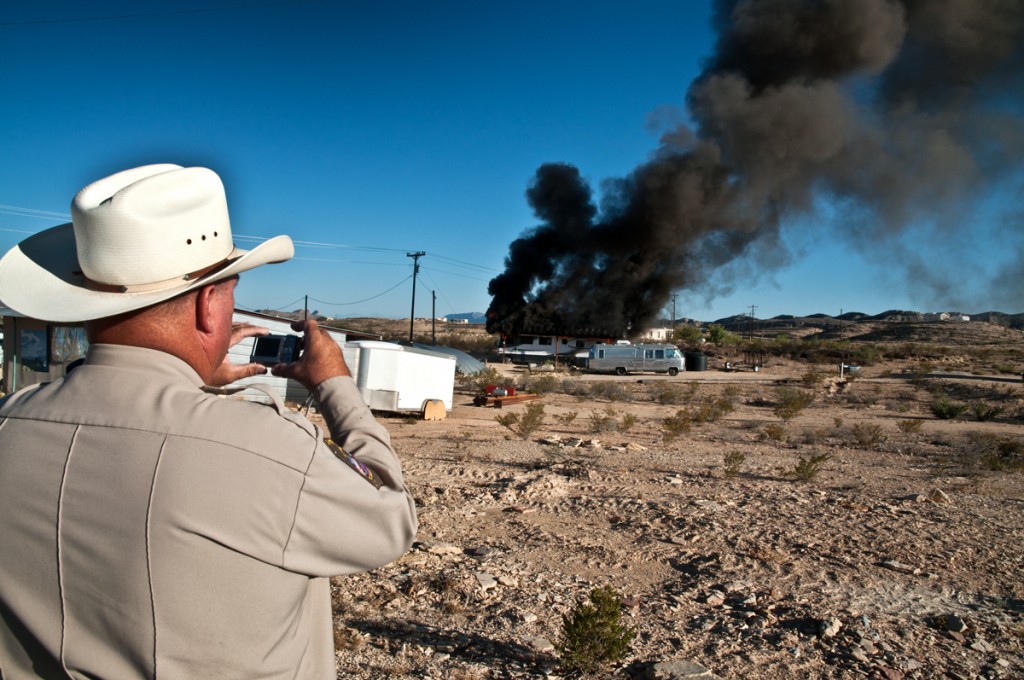 I wandered way too close to the fire to get pictures.  As the ammunition (I'm guessing) started exploding in the motor home, Doc yelled, "Is Larry still in his trailer?"
Banging on Larry's door was met with a confused look until I pointed to the fire next door. We were quickly urged to get away from the fire.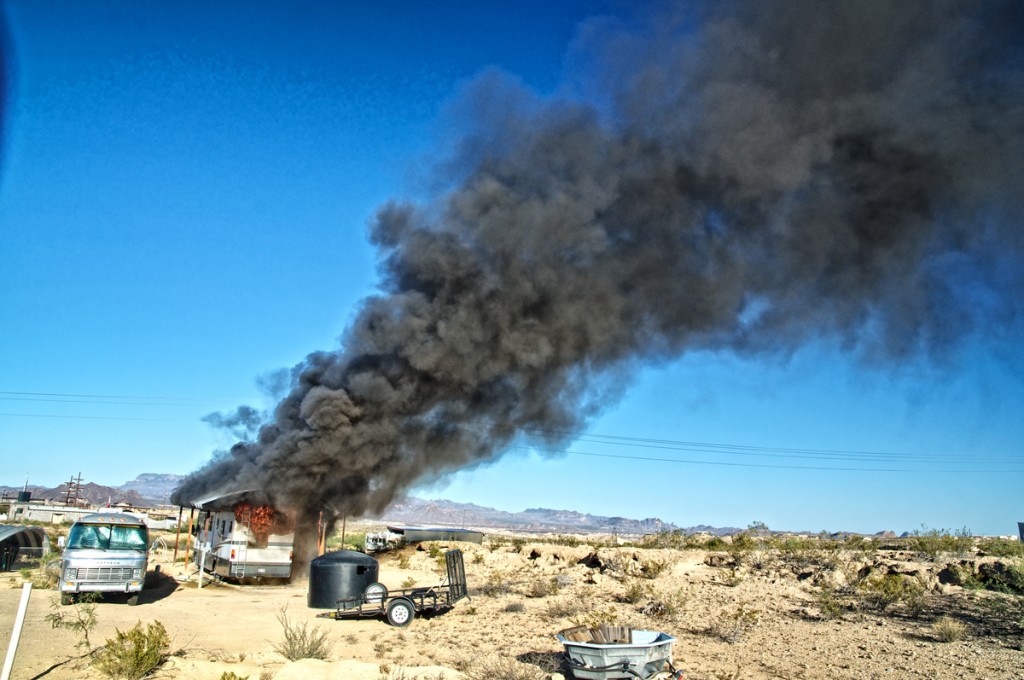 Soon, the first fire truck (of 3) arrived and the firemen started unrolling hoses.
The big concerns were the little propane tanks that might be in the RVs and the big propane tank right outside.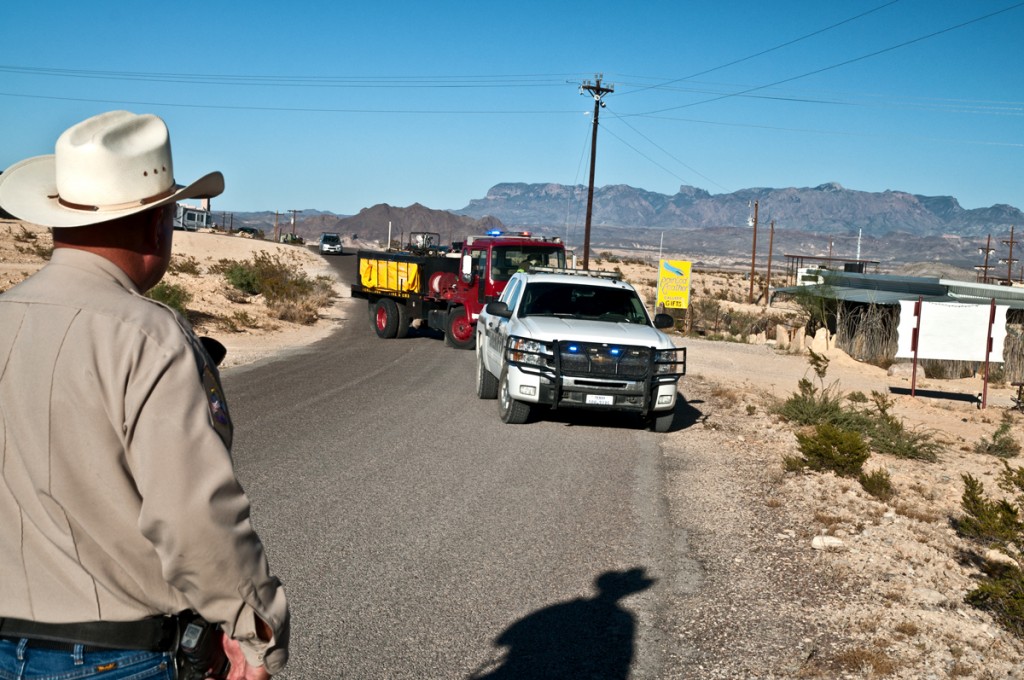 The fire crew tried to keep the fire from spreading to the airstream that was parked nearby.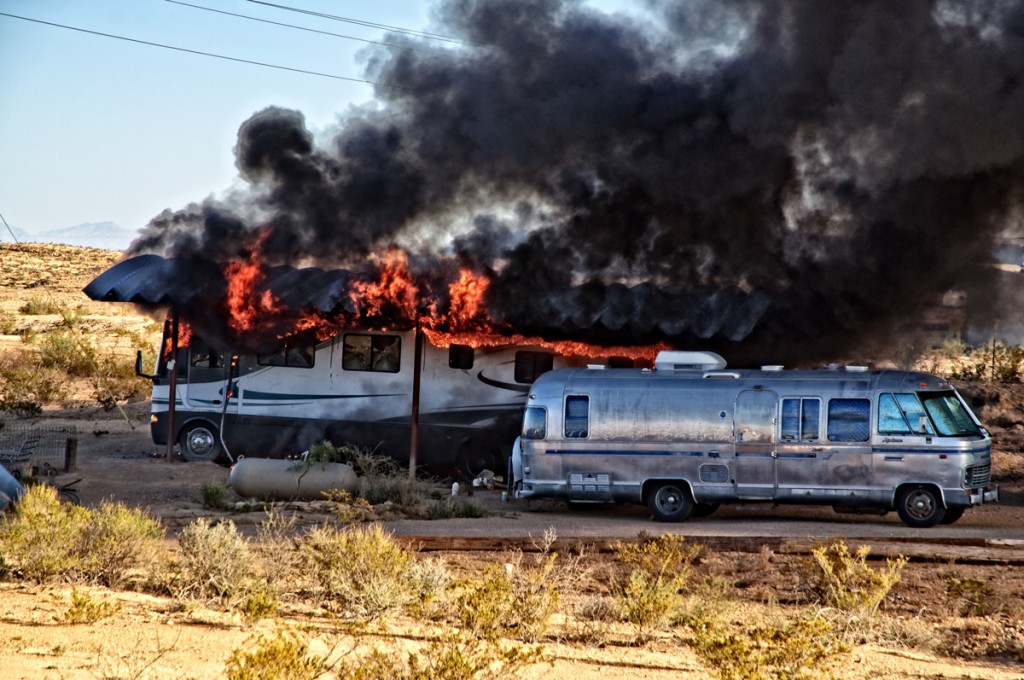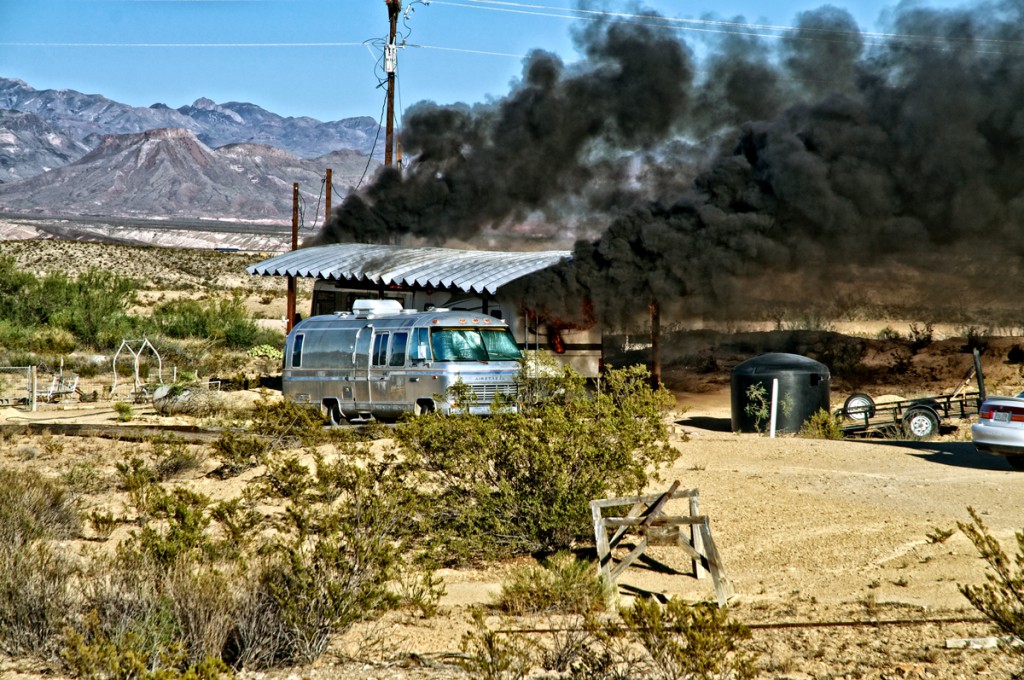 In spite of the fire crew's efforts, the fire did spread.  Luckily, they were able to keep the big propane tank from exploding.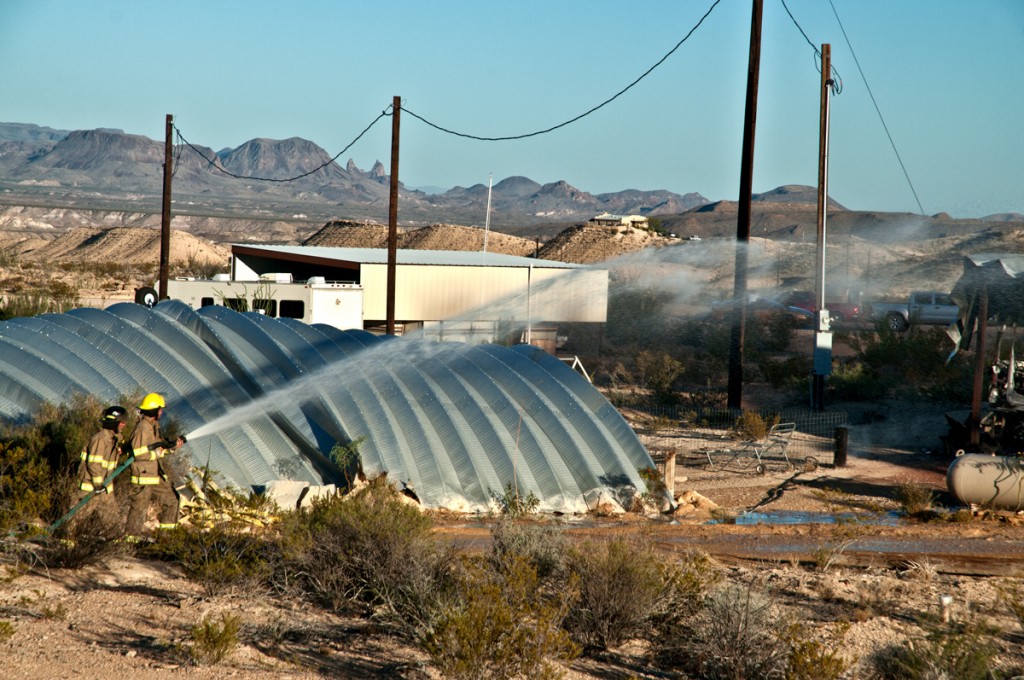 Soon, both motor homes had burned to the ground.  The good news is that no one got hurt- physically.  Sam and Dani did suffer a huge financial loss, though.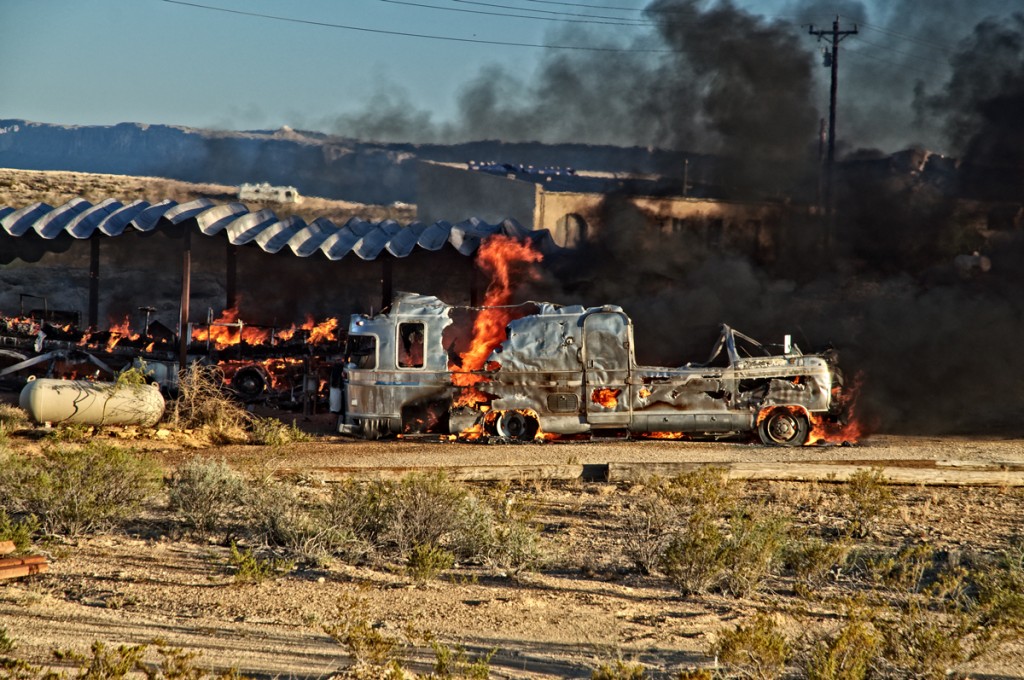 Marfa Public Radio has an article with day-after pics and story HERE.

Two local residents lost their home and an airstream they were in the process of restoring to add to their business, Retro Rents, is also destroyed…

The couple, Sam and Dani Bottenfield, are long time residents of Terlingua.  Dani owns the Painted Feather Gallery & Studio, a popular business to both local residents and tourists.  Sam owns Rio Vet Services and is the town's (and surrounding area) veterinarian.  Locals lovingly refer to him as Dr. Sam.
There will be a benefit for Sam and Dani at the Starlight Theatre on October 11.  We want to wait until all the locals are back in town before we hold it.
We need musicians and donation items for the benefit.
There is a donation account for Sam and Dani at WTNB.  You can donate in person there or donate online by clicking the "donate" button near the top of the page.