Indie Music Promotion- Where's the Money?
I just put out my first CD in 11 years.
Well, that's not entirely accurate. I spent most of the last decade creating New-Age music for motivational and inspirational products. It paid well and sold hundreds of thousands of copies but it was a lot like being an artist and taking a job at Hallmark cards. I got tired of it.
So, back to my first love, which is blues.  You can hear the music for free HERE.
Why would I want you to listen to my music for free? Keep reading. It makes sense.
This led to a very important question for performers who intend to support him/herselves with his/her music: WHERE'S THE MONEY?
Things have changed a LOT in the 11 years I've been gone. Also, previously I had a record company and they got my CDs in record stores. Today, I don't think I want a record company and the CD stores are gone. I've been researching this, and here's what I've learned so far.
Music income can be divided into three categories:
1. live performance
2. online sales, streaming, and downloads.
3. Songwriter and publishing royalties.
Income from online sales is obvious. That goes directly to your paypal account. However, as Stewart Brand pointed out, "Information wants to be free," and your music is information. Once it's on the 'net, it's just ones and zeroes and can be easily replicated and passed around. I know people in their twenties who have never bought music in their lives who have huge music collections.
Songwriter and publishing royalties are handled by BMI, ASCAP and SESAC, primarily and are beyond the scope of this blog post. Personally, I detest dealing with BMI, with whom I've had a publishing company since 1982. They seem to be living in the 80's, and don't really have time for small publishers and songwriters. If I was recording original songs today, I'd look at SongTrust.
I'm going to test this, but I'd bet my momma's egg money that most CD sales happen at gigs.
In a previous post, I showed how you can set up an online record store for free and get your CDs delivered to your customers and yourself very cheaply.
From my research, it looks like the most effective way to make money from your music today is to give it away. 
Doesn't make any sense at all, does it?
Here's how it appears to work: you need to get your music on the right music sites, and as many of them as possible and you need to have a service that monitors those sites, tracks your plays and downloads, and pays you for them.
Online streaming/download services like iTunes and Spotify buy licenses from Sound Exchange. There is another service that seems to duplicate a lot of what Sound Exchange does, called Tunecore. I went with Sound Exchange, so that's what I'm going to talk about.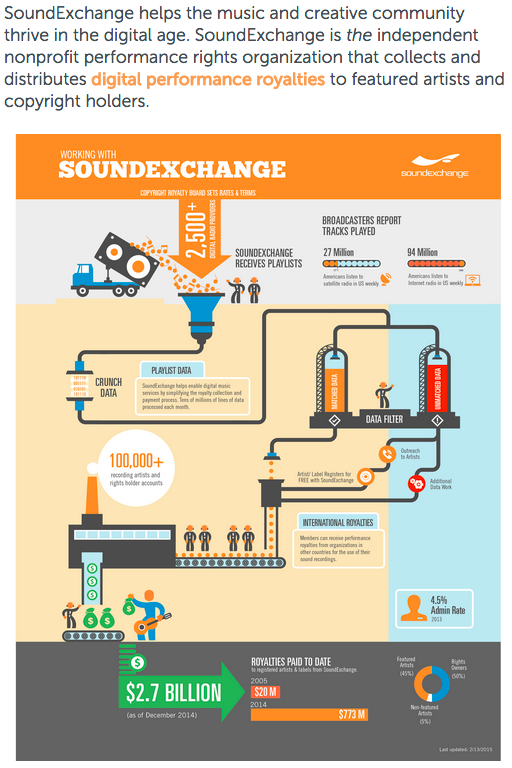 So, the first thing to do is register at Sound Exchange. It's free. The registration form is HERE. You're going to need a photo/scan of your ID and a W-9 form. Then, it takes a while to get in their system. Once you're in, set up your personal account and get a user name and password. Then, you can monitor your downloads, streams, and other online uses of your music in real time.
This is very useful- or at least I'm imagining it will be. I'm still waiting to get in the system. If you're able to track streams and income in more or less real time, I can see how that information will be invaluable for tracking the effectiveness of online promotions. We'll talk about online promotion in a later blog post- I'm learning a LOT and having some success with that already.
Once that's set up, the next step is to rack up as many plays as possible. That means getting on as many streaming and download sites as possible. There are two ways to do this.
1. Research where all the sites are, get an account with them, and maintain your library personally on each one.
2. Pay someone else to do that.
I recommend paying someone else to do it because 1) it doesn't cost all that much and 2) it can turn into a full-time job. I want us to concentrate on making music.
There are several services that will distribute your music for you. I went with CD Baby. I'm familiar with CD Baby- I've had an account there since 1998. More importantly, I know people who use this service and they like it.
So, go ahead and give CD Baby the $50. They'll get your music on the top 95 (or so) music sites and track the plays. At the bottom of this post, you'll find a partial list of the services CD baby sends your music to. CD Baby also registers your songs with Sound Exchange, but received wisdom is to go ahead and register yourself with Sound Exchange, too.
Once you've done that, nobody can steal your music… well, at least you've covered the 95 most popular sites. You can't stop people from downloading and sharing your music, but since it's so much easier to send a link to a streaming site, I think this is as secure as you can get. People listen to your music for free, and you get paid for it.
You're still going to have to do some marketing because each play is only going to bring you a tiny fraction of a penny.
I think of it like this. Let's say you had a song on rotation at the biggest rock station in L.A. in 1980. Every time the DJ spun your record, millions of people would hear it. If you wrote the song, you'd get royalties. If you didn't write the song- let's say your record is a heavy metal cover of the Archie's "Sugar, sugar," you get zip. Nothing. Performers did not get paid for air play. This is why George Harrison was so irritated with Lennon and McCartney.
Today, songwriters still get paid by BMI, ASCAP and SESAC (in the U.S.  Other countries have their own services.) But, and this is the big deal that makes it possible for us to have careers, performers get paid by Sound Exchange. The challenge is that you get paid one listener at a time.
One other source of income is from online radio stations like Pandora. As far as I can tell, you'll need to apply to them yourself. Here's the good news: Pandora pays Sound Exchange for each play.
So, a picture is starting to emerge. You can start your own record company, get a free website that will sell your CDs, ship them to your customers, charge you a dollar per unit and send you the rest of the money. That's in this blog post:  click HERE. They'll also ship you retail-ready CDs at wholesale that you can sell at your gigs.
This blog post describes how to set up your own international distribution company, get your music on the top 95 music sites, and get paid when people listen to your music.
So far, your total outlay for setting up your business is about $50.
Once you've done all this, your tunes will be online and you'll get paid when they're streamed. That's good. What is less good, from an indie musician point of view, is that your music is in the shadows of music by Taylor Swift, Lady Gaga, The Foo Fighters, The Black Keys, Pink Floyd, The Beatles…
How the hell can you get people to listen to your music?
I'll cover that in the next blog post. Stay tuned.

Below is a representative list of our partner companies. If you've chosen either the Standard or CD Baby Pro distribution package, we'll deliver your music to all these providers and more – at no extra cost.
iTunes™
iTunes™ is the premier destination for digital downloads. They offer high quality DRM-free MP3s and command over 80% of the download marketplace revenue. Once your music has been finalized and approved for distribution, we'll deliver it to iTunes™ within a few days! That delivery includes all iTunes™ stores worldwide. If you've opted to distribute your music to streaming services, we'll also deliver your tracks to Apple Music, the interactive music streaming companion to iTunes.
 Spotify
Spotify is the dominant player in the music streaming business. Customers worldwide can access their favorite artists using a free ad-supported version or by paying a monthly fee for Spotify's premium option.
 Amazon MP3
Seattle-based Amazon is the world's largest online retailer. Their MP3 store sells DRM-free downloads to the largest audience anywhere. They also offer streaming music to Amazon Prime customers.
 Google Play
Google's music site allows users to discover new music, share it with friends on Google+, purchase MP3 tracks online from any computer, tablet or android phone, and listen to a huge catalog of music through their paid subscription service. Google Play users can also upload their music to the cloud for easy access across multiple devices.
 8tracks
8tracks internet radio is the best place for people who care about music to make and discover playlists. Listeners can tune into 2m+ playlists lovingly curated by people around the world. Nearly 8m monthly listeners enjoy programming that spans every imaginable style, activity or mood, offering an unmatched opportunity for music discovery with a uniquely human touch. Artists gain exposure to an audience that's both musically adventurous and culturally influential.
 Shazam
Shazam is a hugely popular music discovery app available on smartphones. Music fans can use Shazam to identify the 'title and artist' of a song by putting their phone near the sound source while a song is being played. When you distribute your music with CD Baby, your music will be added to the Shazam database–making it easy for music fans to discover and buy your music using Shazam.
 Apple Music
Apple's subscription streaming service is the largest interactive music library in the world. For the monthly fee of $9.99, Apple Music subscribers can access the songs of their favorite artists (ad-free) and listen to great curated playlists on Beats 1, a 24/7 global radio station. Through Apple Connect, every artist can communicate directly with their fans on Apple Music, upload demos, music videos, backstage photos, and more. Note: Apple Music is a companion service to iTunes, and customers can still download your tracks through the iTunes Store.
 TIDAL
TIDAL is an artist-owned music streaming service, offering subscribers access to a catalog of high-fidelity, lossless audio, boasting as many as 25 million tracks and 75,000 HD quality music videos. TIDAL also features expert editorial from experienced music journalists.
 YouTube Music Key
YouTube is already the world's most popular music platform. With Music Key, users can now get ad-free access to much of the music on YouTube (plus unlimited access to Google Play Music), all for a small monthly subscription fee. Users can also listen to YouTube's vast musical catalog while offline, while using other apps, or with your device's screen turned off.
 Xbox Music
Xbox Music combines Microsoft's robust catalog of over 30 million tracks with the popularity and usability of both Xbox 360 and Windows-based devices (phones, tablets, PCs). Xbox Music allows music fans to stream and download songs, create playlists and artist-based radio stations, and sync their music collection across all devices. Discover your favorite new band today!
 Rhapsody
Rhapsody is one of the original music streaming services, with a commitment to offering music plans exclusively to paying subscribers. Rhapsody has also integrated with Twitter to make sharing music via tweets extremely easy.
 iHeartRadio
iHeartRadio offers access to over 750+ radio stations nationwide as well as a DMCA-compliant personalized radio feature. You will be paid for plays on iHeartRadio through SoundExchange and not CD Baby.
 Rdio
Rdio is the digital music service started by the creators of Skype. Music fans discover, play and share millions of songs without ever hearing a single ad and build a digital music collection that's available on the web and mobile devices, even offline. Users can sign up for free to try Rdio and access unlimited music through one of their flexible monthly plans.
 eMusic
eMusic is a truly indie-focused music service, boasting a large catalog of independent music from around the world. eMusic offers high-quality DRM-free MP3s to its subscribers.
 MixRadio
MixRadio offers a personalized music streaming service, delivered to 31 countries around the world. Users can stream interactive mixes of music created to personal taste. As they listen, MixRadio develops to their habits, offering personalized music, and making the service a great place to instantly discover new artists and songs.
 Medianet
MediaNet is one of the biggest providers of digital music, calling upon a heavy-hitting list of distribution retailers. With domestic & international outlets, MediaNet places your music into a global marketplace.
 Tradebit
With a presence in both Germany & the United States, Tradebit is a versatile online store that specializes in digital downloads. They offer high quality DRM-free MP3s to an international customer-base, along with detailed artist information.
 Slacker
Slacker gives listeners access to the world's best music and entertainment wherever they are. Slacker can be listened to for free on any device. Users can subscribe and enjoy a commercial-free experience with deep customization, offline listening, and on-demand access to millions of songs and albums.
 24-7
24-7 Entertainment, Europe's leading B2B technology provider specializing in online and mobile distribution of digital entertainment, powers major retailers including Play.com, Media Markt, Saturn, TDC PLAY, ExLibris and many more. CD Baby artists receive vast international exposure once delivered to 24-7's digital distribution network.
 7digital
Established in 2004, 7digital is a leading digital media delivery company based in London and operating globally. They have exceptional relationships within the music industry and have a fully licensed catalogue of over 11 million tracks in MP3 format, giving 7digital one of the broadest MP3 reaches in the world.
 Deezer
Based in France, Deezer is a prominent streaming service that boasts 20 million users and registers 6 million unique visitors per month. Partnerships with mobile heavyweight Orange and Cricket Wireless have further extended Deezer's reach into international markets.
 Omnifone
Founded in 2003, Omnifone is an independent provider of global cloud-based digital music services. It develops, licenses and manages scalable digital music services to enable partners to deliver cloud-based music services across virtually all connected devices. Omnifone's MusicStation platform is now live in 28 countries and offers a catalogue of over 22 million tracks.
 Guvera
Guvera is an ad supported and subscription based music service that offers unlimited access to millions of songs from the world's biggest artists. Content is delivered via streaming, on demand, and across multiple platforms. Guvera will soon be available in over 100 countries.
 JB Hi-fi NOW Music
JB Hi-Fi NOW Music is an innovative music streaming and subscription service created by Australia's largest music retailer (JB Hi-Fi). JB HI-FI NOW Music is designed to enhance music listening and music discovery across a variety of devices. JB Hi-Fi is the most recognized music retail brand in Australia. If you want to be heard in Australia, you need to be on JB Hi-Fi NOW Music.
 boinc
Currently available on the Movistar network, boinc is a social music service that enables users unlimited, on-demand access to a legal library of millions of songs. Because boinc's fees are included in the price of certain mobile devices, they're able to offer an ad-free music service without subscription fees, download charges, or consumer-facing advertisements.
 GreatIndieMusic
One of our earliest partnerships, GreatIndieMusic remains committed to the music they are named for. With a large catalog of independent artists, customers have a great choice of DRM-free MP3s which are compatible with any desktop or portable device.
 Rara
Rara is an ad-free subscription streaming service with a library of over 22 million songs. Subscribers can create playlists, discover the latest releases, get music recommendations, and enjoy 100's of expertly curated music channels. Rara is available on the web at rara.com, on Rara apps for iPhone, iPad, Android, Windows 8 PCs and tablets, and in-car for new BMW models with ConnectedDrive.
 Yandex.Music
Powered by the largest search engine in Russia, Yandex.Music allows users to discover and listen to songs and entire albums from both Russian and foreign artists. Yandex.Music users can create their own playlists and recommend tracks to other users. With 3.5 million licensed recordings, Yandex.Music offers a wide range of genres and styles.
 InProdicon
InProdicon is a white label provider of digital music services for the worldwide market. Founded in 2003, InProdicon was amongst the first to launch music download services in Europe. Having recently upgraded its platform and revamped its services, InProdicon is now in the process of launching a number of subscription services with partners around the Globe.Get started now