This is the story of how George Goss got his song, "Ain't No Honky Tonks in Jail," recorded by a major country star, got a publishing deal, and a shot at a career as a songwriter- without leaving Terlingua.
As George Goss stood with his wife, Anita, backstage at Willie Nelson's 4th of July picnic this year things got just a little emotional.
George's hero, Johnny Bush, was performing. Previously, George and Anita had hung out with Johnny, his wife, and his band in his tour bus.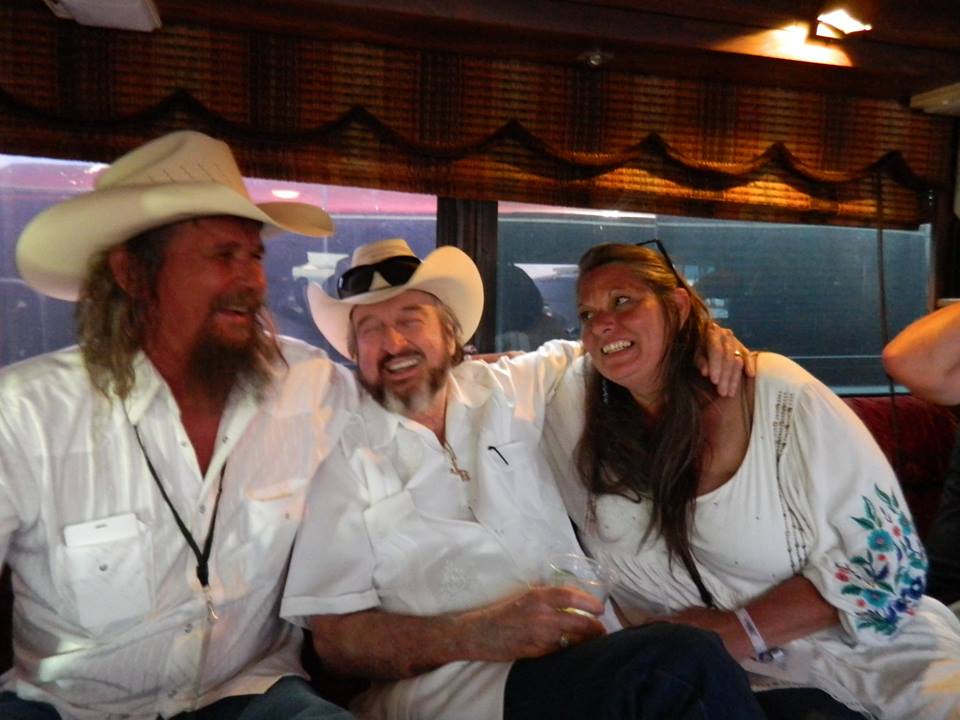 When Johnny Bush and his band played George's song, "Ain't No Honky Tonks in Jail," while the crowd sang along, things got a lot emotional.
His hero singing his song and a huge crowd singing along at Willie's picnic.
Let's rewind the tape a bit and see how he got there.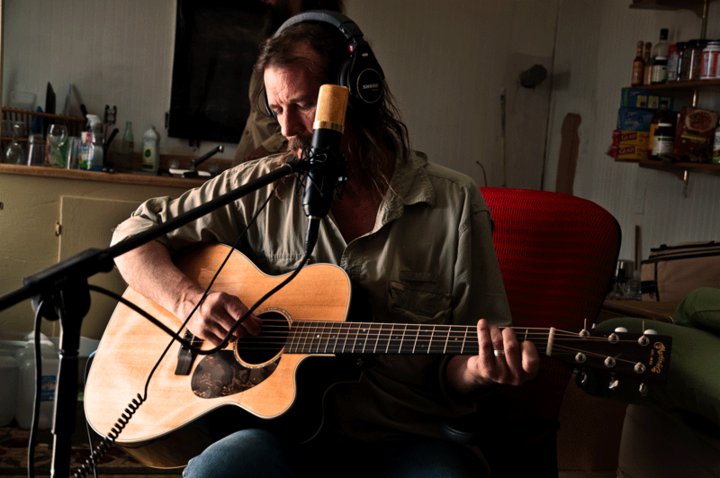 That picture was taken in my off-the-grid cabin on March 11, 2011. In two short recording sessions that week, George laid down what became the final vocals and rhythm guitar parts for the 10 songs that are on his CD.
Since George was a little low on cash at the time, we agreed that he'd do some painting and carpentry on my cabin in exchange for the recording and production.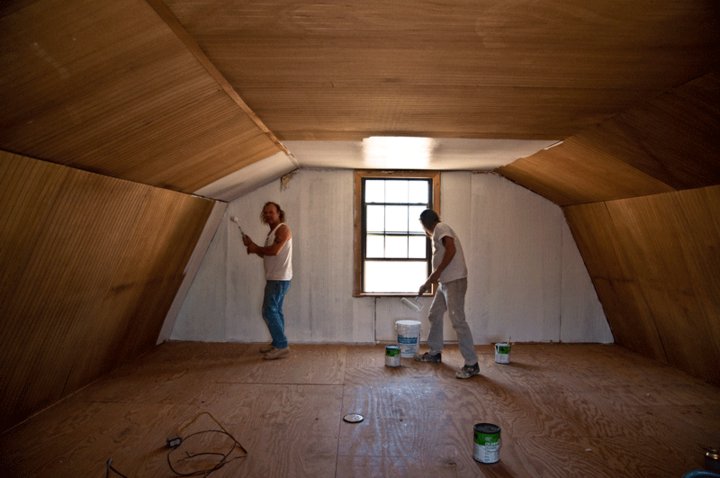 Over the next 10 months (or so) I worked on that project in my office/studio in Wimberley. At the time I was still working full time in Internet Marketing, writing books, putting on seminars… I used working on George's CD as my reward for getting my "real" work done.
First, I created an imaginary band for the songs, modeling the Outlaw Country music of Waylon and Willie. Strong beat, simple bass parts, melodic guitars, and bar-room piano. Then, I spiced it up with mandolin, 12-string guitar, and put on the guitar leads. Elizabeth Lee dropped by and sang harmonies.
It sounded good, but it wasn't quite right.
On a photo shoot with Rodney Bursiel in Houston, after a day photographing Lyle Lovett at Anderson Fair Retail Restaurant, we were driving to Whole Foods to eat dinner when Rodney got a call from Sharon Ely: "Joe's playing a private show at Rockefellers with Ryan Bingham- do y'all want to go?"
Although we were tired, and I think we drove back to Wimberley that night, we decided we had to go. Hanging out with the band before the show I met Richard Bowden. Richard is an amazing fiddler who was playing with Ryan that night. Shortly after, he went on the road with Bob Dylan. He's real good. Taking a long shot, I asked him if he'd be interested in playing on a project I was producing. He agreed, we exchanged info, and a week or so later he drove to Wimberley and recorded all 10 tracks of fiddle in a little over two hours.
While we were recording, I asked him if he'd like to go over the songs… work out parts. He said, "nope. I've been playing these songs all my life."
The fiddle parts completed the album. They were perfect.
Over the next month or so I mixed and mastered it, set up an account at Kunaki so we could order CDs, and George and Anita arranged to have a CD release party at the Starlight Theatre in Terlingua.
In a coincidence that I just noticed as I was harvesting photos from my Facebook page to use in this blog, the CD release party was exactly one year after George recorded his first vocals. March 11, 2012.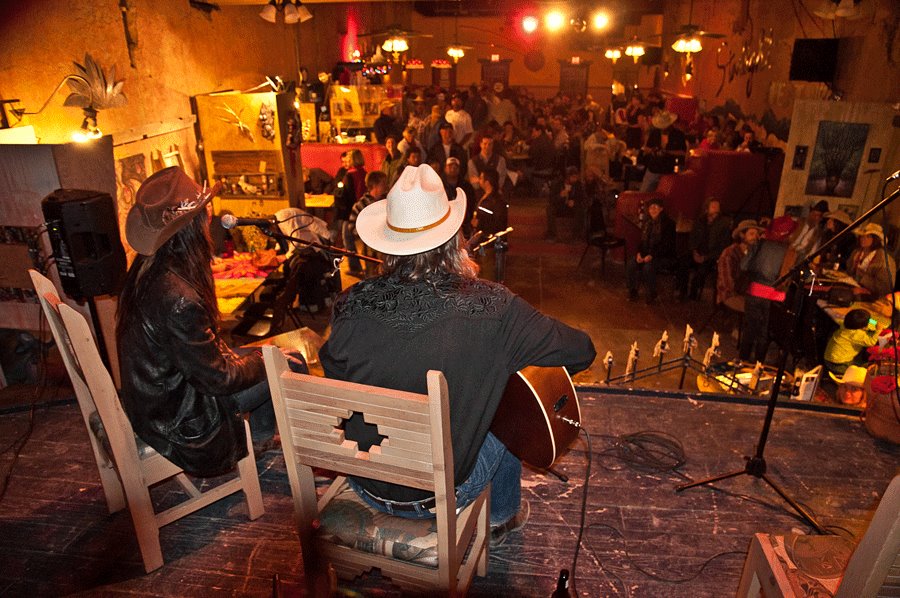 The CD release party was a huge success.
Next, we needed a video.
Anita packed a picnic lunch for us, George grabbed his guitar and taco hat, Anna Oakley agreed to play the part of Richard Bowden and brought her fiddle. David Shane Duke grabbed one video camera, I grabbed the other, and we all piled into my RV and bopped around the Big Bend shooting video.
It took one day to shoot, and I spent a day editing. Very soon after, the video was on YouTube.

Then, I did some Internet Marketing magic, and it became the #1 video on the Youtube charts for several valuable keywords, including "Americana Music," "New Country Music," and "Outlaw Country Music."
Internet Marketing magic can get your video high in charts, but it takes a great song, a great video, and a great recording to keep it there. George and I had fun watching it grow- 3,000 views… 50,000…100,000…
That video hit Youtube on 4/17/2012.  Today it has been viewed 1,992,726 times. It's #34 on Youtube's "Americana Music" list and #2 on the "Outlaw Country Music" chart (Right behind the Beaumonts, who are also clients of mine.)
Since George doesn't play many gigs or tour at all, my strategy was to get his real, authentic country songs in front of the people who would be looking for such songs. Having spent some time in Nashville with songwriter friends and gone to some song-pitching nights in clubs there, I figured that you could short-circuit that whole circus with a good Youtube video. Obviously, the A&R guys there had computers. It seemed obvious that they would be combing through Youtube looking for great songs, right?
Wrong.
When I started the marketing campaign, I told George it was a "one in a million" shot. I was right about that. Apparently, the 1,000,000th viewer was Johnny Bush, who wrote "Whiskey River Take My Mind" and a lot of other country hits and still has a vibrant career. He told one of his band members to "find that guy."
They did.
If the story ended right there, I'd call that a happy ending. But the story continues- Johnny and his band have recorded "Ain't No Honky Tonks in Jail," and it (and possibly one more of George's songs) is going to be on his new CD. Johnny has also signed George to a publishing deal and has promised to promote George's songs to his friends, and he's friends with the Country Royalty.
In reality, the story is just starting.
And it started in a little cabin way out in the desert near Big Bend National Park, with a couple of microphones, a computer powered by a few solar panels, and a great song.
***********************************
Pat O'Bryan is a crusty ol' coot who still lives in that off-the-grid cabin in the desert. His band, "Uncle Pat's Imaginary Blues Band," has a new CD out:  "Terlingua Bootleg." He plays gigs in Terlingua occasionally, and recently produced Trevor Hickle's new CD, which will be out very soon.
He also helps musicians and others with the "Part That's Not Art," promoting CDs, making and promoting videos, and arranging online distribution. Click HERE to find out more about that.