What:  SlimFest oNe – a celebration of the world's most dangerous guitar player featuring magical jam sessions and performances from Butch and Rory Hancock, Carolyn Wonderland, Jitterbug Vipers, Ghost Along the Brazos, Alan Munde and more.

Where: The Boathouse, Terlingua, Texas.

When: Feb. 11-14, 2016

How can I get Tickets?:  Click HERE.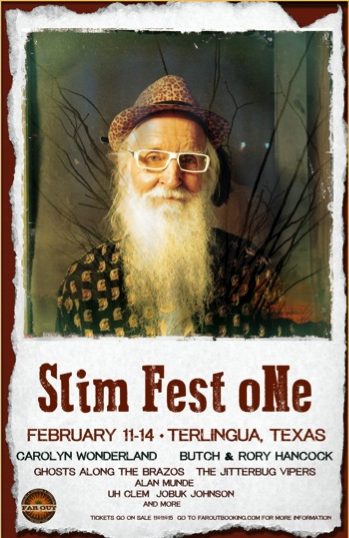 I figure it was about 20 years ago when one of my guitar buddies told me about Slim Richey's birthday party and invited me to meet him there. He said the vibe would be great and the music even better.
I went and it was true- the jam sessions at Slim's birthday party were sooooo good and the level of instrumental prowess and accomplishment of the players was so high that I pretty much left my guitar in its case and wandered through Slim and Francie's Dr. Seuss-like house. There would be hard-core bluegrass in the bedroom, singer-songwriter song swaps in the living room, and more music outside.
Although the roof kept the rain out, you could see the sky through it.  I made every one of the subsequent birthday party jams that I could after that. It was magical.
Last year, Slim passed on to that great jam session in the sky. The party, however, continues.
February 11-14, 2016 we'll be remembering Slim by playing and listening to some great music- recreating those magic jam sessions and enjoying some amazing performances. There is (cheap) camping available behind the Boathouse (at Las Ruinas Campsite). You can book your site when you buy your ticket.
Check out the schedule and then click HERE to snag your ticket- there are still a few camping packages available, but you gotta hurry.
Thursday, February 11

Birthday Bash including campground and Boathouse Deck jamming with some of the best musicians on the planet. Really.

Boathouse stage Open Mic #1 starts at 5 p.m.

Friday, February 12

Daytime jamming in the campgrounds and on the Boathouse Deck 

6:00 – Slim's friend and Terlingua resident, Uh Clem
7:15 – Rory and Butch Hancock
9:15 – The Jitterbug Vipers 

Saturday, February 13

Daytime jamming in the campgrounds and on the Boathouse Deck 

5:30 –  Slim's Terlingua buddy, JoBuck Johnson
6:45 –  Alan Munde & Friends
8:30 –  Carolyn Wonderland
10:30 – Ghosts Along the Brazos (yes, they're getting back together for the festival!)

Sunday, February 14
Campground & Boathouse Deck jamming.

Boathouse stage Open Mic #2 from 5-10 p.m.