Terlingua, Texas musicians and community to the rescue!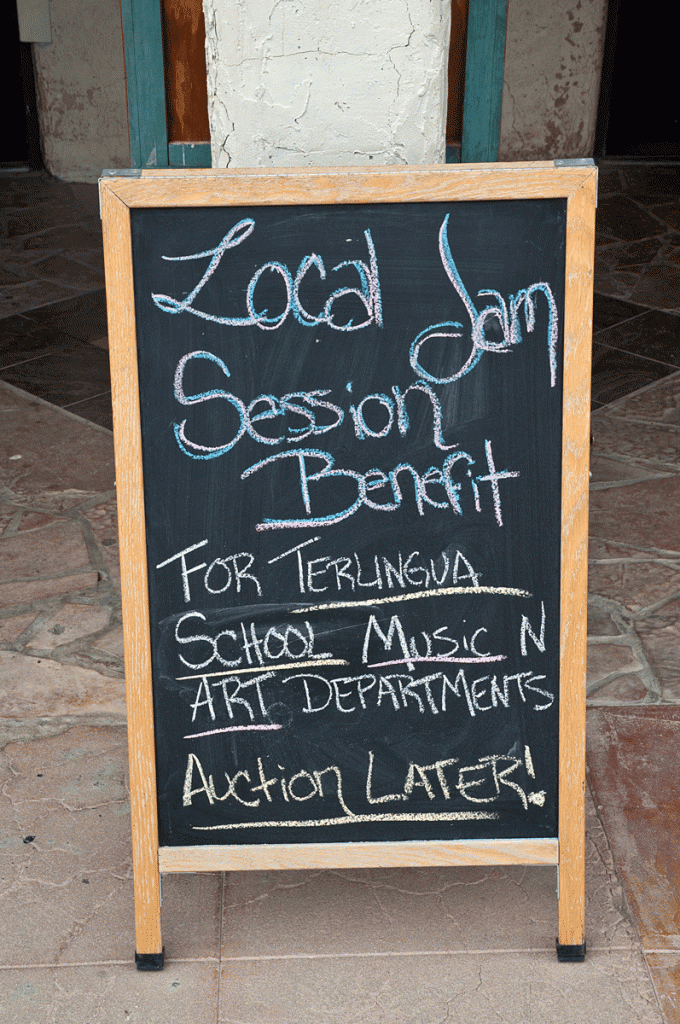 *** Want to donate to the Terlingua Arts and Music departments?  Click the paypal "donate" button – all proceeds will go to the Art and Music Departments at the Terlingua School. ***
When I found out that the music and art teachers in Terlingua were buying music and art supplies for their students out of their meagre paychecks, I found myself channeling the Big Lebowski:  "This will not stand!"
As I shared this information with others in the community, the response was pretty much the same.
Rather than focus on why this situation exists, we just fixed it by funding the art and music departments.
On Sunday, August 25th, local artists, musicians and community members gathered at the Starlight Theatre in the Terlingua Ghost Town to raise money for the Terlingua School music and art programs.
We passed the tip jar around, there were silent- and loud- auctions, some people donated by using the above PayPal button – and by the end of the night we had raised over $800.  That will buy a lot of paint, reeds, etc.
The Starlight donated beer and food for the musicians and gave us a great, historic venue for the benefit – thanks Buckner, Sonny, Diego, Kathy and all the rest of the gang at the Starlight!
Many local artists and authors donated their work for the auction, and the bidding was fierce.  All proceeds go to the kids.
Herman and Deanna (High Sierra Bar and Grill) donated a case of beer for the auction.  Ed won.
The musicians donated their time and talent.  We are lucky to live in a community that is so rich in brilliant and giving performers and artists.  Each act played a short set and still the music went on for over six hours.