I got a text message from a friend- "Grace Askew is playing the High Sierra tonight."
"Who's Grace Askew," I asked?
"Bluesy, from Nashville, was on "The Voice."
I responded, "are they filming the damn reality show?"
"No!!!"
Ok.  I spent the day working on vocals and guitar tracks at the studio, then to the Starlight Theatre for dinner.  Speculation was that the whole thing was about the Reality TV show.  After dinner, I went back to the studio to make rough mixes, and showed up at the High Sierra around 9:00, where Jeff Haislip was talking to a thin dark-haired woman at a table outside. No video cameras visible… good.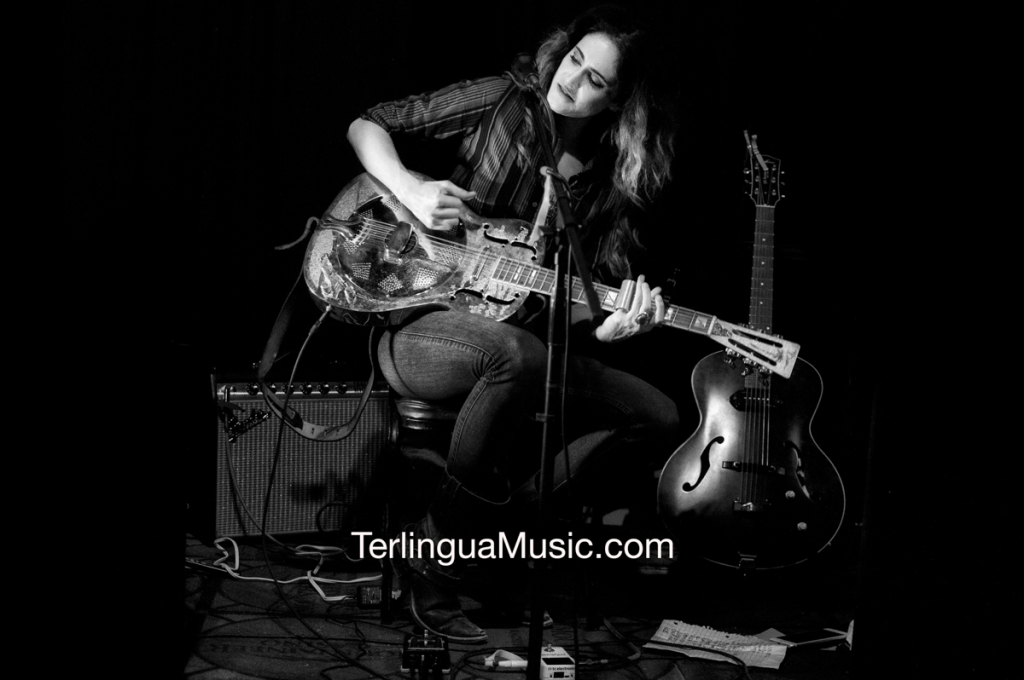 Jeff introduced me to Grace, and we had a fun discussion about touring, pipelines, resonator guitars, Memphis, and discovered that we had a lot in common, musically. Grace is on tour, in her pick-up truck. You can see the tour dates at her website: HERE.
She asked me to sit in on guitar, and I told her that I'd like to hear her do a few songs, first, so I could ascertain whether or not I 1) could play her material and 2) add anything of interest to it.
Later, I did some research to find out who Grace might be.  I'd heard she'd been on some TV show called "The Voice," which I, of course, have never seen.  Here's what I found out.
Grace has been featured in Rolling Stone magazine, and they like her new CD.  Click HERE to read that.
There's a better interview with her in "American Songwriter" magazine, where she talks about "The Voice," the fact that she doesn't listen to the radio, and songwriting.  Click HERE for that one.
Then, I hit YouTube- I'd post the video of her doing "These Boots are Made For Walking," here, but YouTube has disabled the code for that.  You can watch it here:  https://youtu.be/QFllUpj4SAs
She likes Tom Waits, and this video of her doing his "Chocolate Jesus," is nice and raw- pretty much what she sounded like last night.

Inside, over a glass of Shiraz, I listened to Grace play a few songs and came to the opinion that I wouldn't have any trouble following her- she plays a combination of country and blues that she calls "bluntry" music, which is pretty much where I live, musically.  So, I drove to the studio (a mile away), grabbed my Martin, and zipped back to the club.  Plugged in…  nothing.  Probably the battery in the pickup.  So, I went back to the truck, grabbed a fresh battery, back to the stage, changed the battery- knocking over and breaking a bottle of Louisiana Hot Sauce in the process- whups.
Still nothing.  Dead guitar.
After explaining the situation to Grace, she pointed out that she'd be playing there Wednesday night, too and we agreed that I'd bring a guitar that actually worked and sit in with here then.
So tonight I'm going to stop by the Starlight and see Adam Klein, who I'm not familiar with.  Then, to the Boathouse, where the open mic will be rocking.  Then, I'm going to end up at the High Sierra with a guitar that actually works to sit in with Grace.  C'ya there.
UPDATE:  last night I successfully sat in with Grace.  We played to a surprisingly sparse audience, but the people who did show up enjoyed an interesting show.  There's a chance she'll be back to play the Viva Terlingua Music Festival this August.